Best Disposables of 2022 (Based on Flavor, Throat Impact, and Overall Performance)
Jun 23, 2022 by veexshop
Disposable e-cigarettes are gaining popularity among those looking to quit smoking. The best disposable e-cigarettes closely mimic the puff and feel of smoking, and they also have some delicious flavors. They are also easier to carry than a pack of cigarettes - most are very small and light. To make choosing easier, we've listed the 5 best disposable e-cigarettes for 2022. We selected these disposable e-cigarettes based on their build quality, taste, sore throat, battery life and overall performance.
Elf Bar bc5000
The ElfBar BC5000 only includes a 650mAh battery - that's because even though it's disposable, it can be charged via USB Type-C. It has a huge juice capacity of 13ml and can deliver up to 5000 puffs. It has a sleek flask design, has some amazing flavors and is one of the best longevity disposable vape pens.
Why choose it: We all love that Elf comes in a variety of flavors, so it's easy to find a few we love to use every day. The fact that the BC5000 delivers 5000 puffs, but has a small footprint thanks to its rechargeability is a big plus. Its streamlined shape is also a major feature of it.
2,Vaporlax
The Vaporlax Mesh disposable e-cigarette pen comes in 6.5ml juice, but now offers 3,000 cigarettes. Perhaps even more impressive is the ultra-smooth adjustable airflow and the multitude of flavors currently available - 25. They include fruit, menthol, desserts and everything between 50mg or 25mg nicotine levels - all of which provide a great vaping experience.
Why we picked it: Just like Vaporlax's Sirius range, they are available in a variety of flavors. Vaporlax Mesh has excellent performance, its mesh coil pulls smoothly for one-time use. They're slightly shorter than the advertised 3000+ ports, but still have a very impressive longevity for a disposable compact mesh coil. We love that they can choose between 2% or 5% nicotine strength, making them more versatile.
3.Taki T50
This is a brand new blockbuster series launched by TAKI. T50 maintains the characteristics of TAKI's consistent pure taste, and has been upgraded and improved on the basis, this time it is more intense. The T50 adopts a unique design, a square transparent casing, which shows the trend of use and personality. Once launched, it has been favored by consumers.
Why we choose it:
T50 is pre-loaded with up to 10ml of e-liquid, 5% nic, and has a large 500mah battery, which can provide 8000 cigarettes continuously, providing you with a long-lasting pleasant experience. The flavors launched by T50 are very distinctive, including watermelon bubble gum, mixed juice, ice lemon, cheese strawberry, ice mango and so on. Each flavor maintains a unique style. Switchable DTL and MTL modes are not a must-see for anyone looking for a unique experience!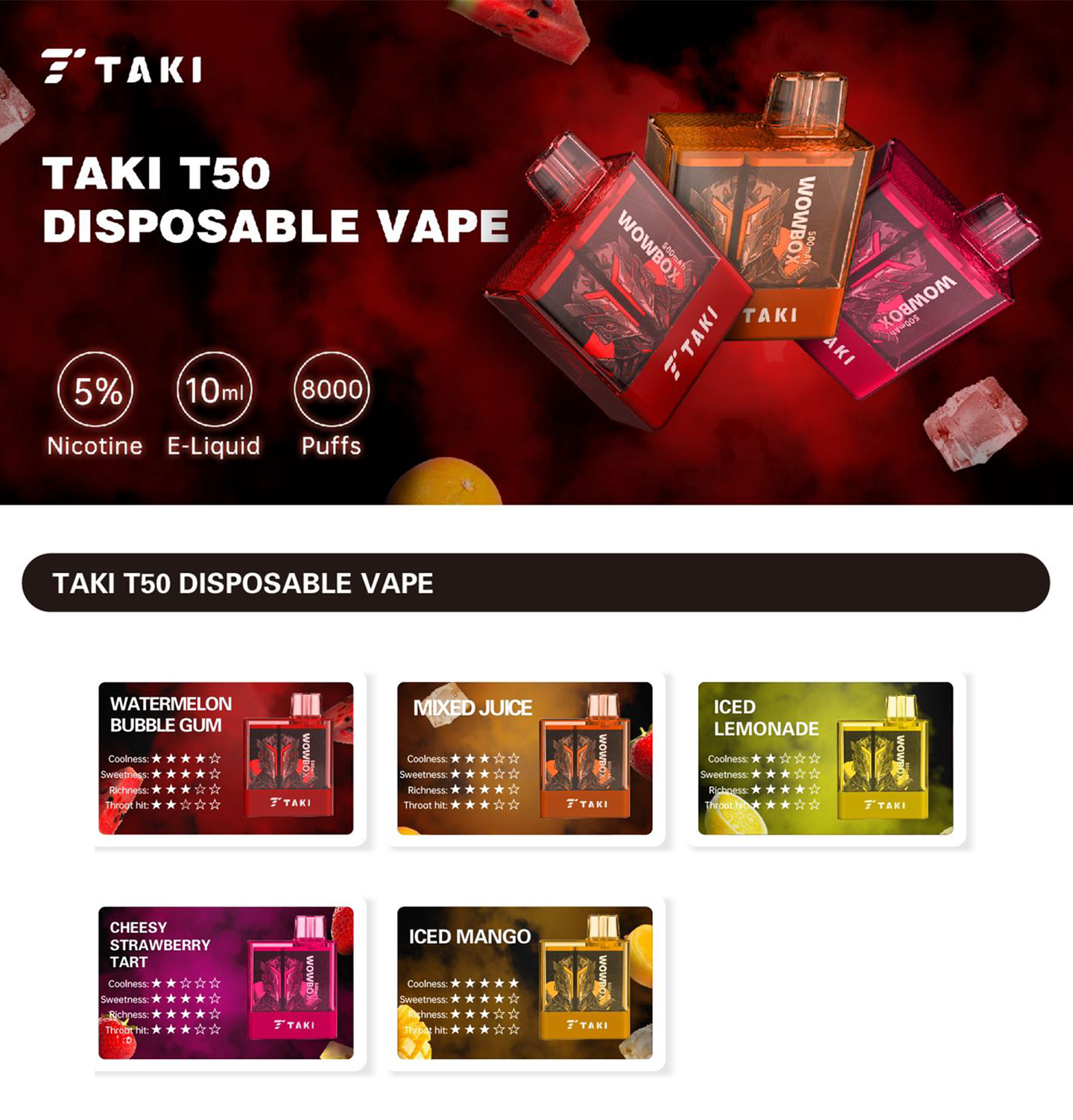 4.The Cube
The Cube is a beast of a disposable vape pen, and not just because of its size. The Cube comes with 11ml of pre-filled juice for 3000 sprays per pen! The Cube also includes an adjustable airflow switch and comes in a variety of flavors. Cube uses 50 mg of nic salt and also offers a nicotine-free version called Cube Zero.
Why we picked it: While the cube is huge, we really like its boxy shape. The quality of workmanship is also good, and the matte finish aids in the grip. While the adjustable airflow doesn't make much of a difference, it does work and is a nice addition. The variety of flavours in the Cube collection is truly eye-catching, our favourite is Strawnana (Banana Strawberry), Tropic and Nirvana are our favourites.
5.Vaporlax's Sirius 2200
Vaporlax's Sirius 2200 comes in over 20 different flavours, each containing up to 10ml of vape juice. Combined with a 1500mAh battery, the Sirius 2200 delivers an impressive 2,200 clicks (as the name suggests). Sirius comes with 50mg salted nicotine vape juice and comes in some of the most delicious fruit flavors.
Why it was chosen: We fell in love with the performance of the Sirius line at first sight. There are some popular flavors, but with such a wide selection, you really can't go wrong. We especially like Lush Ice and Hawaiian Mix.