I like VEEX, I choose it
Jul 13, 2022 by veexshop
Last year, I came to Australia to study, the first time to this place life is not familiar, a person is more lonely. Seeing other friends playing together while I am alone, I feel homesick and miss my friends. Missing friends, family mood always let oneself depressed. Here I always see some people spitting out thick smoke from their mouths. I'm curious, so I understand that it's e-cigarettes. I don't know much about these products, so I checked the official website and found that there are many kinds of e-cigarettes recommended, such as VEEX, RELX and MOTI. After consulting materials, I learned a lot of product information about VEEX and finally chose it. Here are a few reasons why I chose it.
Taste color:The popularity of series of products is very high, it is more convenient to buy tobacco bombs, the market rarely appears out of stock, supply can meet the demand. There are so many colors of cigarette rods that customers can always find a satisfactory color match to suit their style.Appearance Vapevitad carved in play the atomizing electronic cigarette has many colors to choose from, black sky dark atmosphere, elegant pearl white moist, high your elegant champagne, a space gray low-key costly, citric yellow, pure and fresh and pure green powder, fresh and lovely, many color many styles each have each charm Smoke bomb taste, can provide customers to choose. The liquid of a single cartridge reaches 2.2ml, which is more economical than other smoke rods.
Compared to the RELX 1, the more color of the rod gives customers more choices,The RLEX 1 has only 11 colors, while the VEEX V1 has 13. In terms of flavors, the RELX 1 has only 16 and VEEX 29.
Price:RLEX is $39.99, while VEEX is only $32, so VEEX is cheaper than other products.Observing from this, RELX starter kit is more expensive than VEEX, its price is 1/5 higher than VEEX. Both products are from China, VEEX is 6 USD cheaper than RELX. Wholesalers get a discounted price for VEEX bulk orders from 20 USD/kit or lower, isn't it attractive? Besides, VEEX dealership policy is more friendly and open to new comers.
The company:Founded in 2014, the company is a global consumer brand company of atomization and great health. It takes "Veco Technology, Geek Creation" as technology driven and product innovation-oriented to provide geek products and services for atomization consumers around the world.The annual investment in research and development has reached tens of millions of yuan. It is a national high-tech enterprise and has completed 41 patent applications. In the international production base -- Dongguan, China, the company has 23,000 square meters of 100,000 grade dust-free R & D and production base, which will be fully upgraded to a fully automated smoke bomb production line in 2021.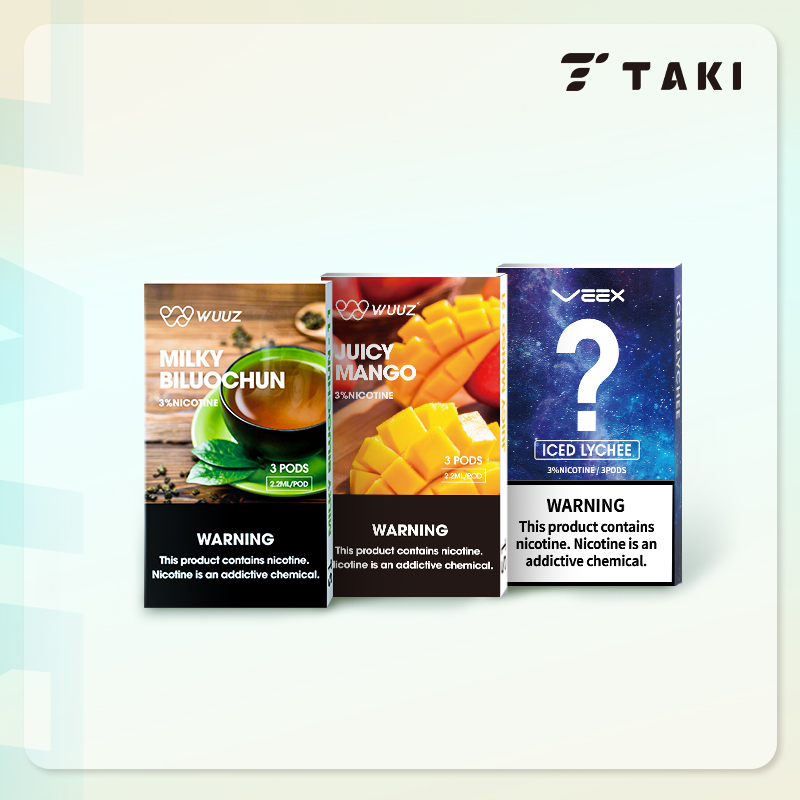 Technology:Similar on the market in many electronic cigarette products, spare parts supply chain is very rich also, d moment did not use parts of existing products on the market. To do have qualitative feeling, prevent oil, crack, high smoke bombs, d carved team independently developed each parts, 38 adjust and adjust finally V1 pod chip and vape pod coil is the best match, to achieve the most ideal atomization effect.
V1 vape pod integrated constant voltage technology intelligent chip, constant power output, accurate control of atomization temperature, voltage, so that the nano ceramic atomization core always maintain the best atomization state, more delicate and consistent taste. With the use of 380MAH A+ grade lithium cobalt acid high rate battery, high capacity density, good safety, can be strong and continuous power output, smoke taste more stable, the best use cycle over 600 times.
"Insert vibration remind:" smoke flare when inserting rod, will hear a "click", the fuselage vibration, will have a strong sense of using type."Nicotine intake vibration remind" : for consumer health consideration, reasonable control nicotine intake, even smoke in 5 minutes, 10 fuselage vibrations.
Security:Many brand presence of oil smoke bombs. Food-grade TRITAN (PCTG upgrade materials), new materials have good viscosity, transparency, resistance to chemicals and ability to resist stress whitening. TRITAN material tenacity 15 to 20 times more than the general PP material, high temperature more than ordinary PCTG, do not contain bisphenol A, have very good effect of oil spill prevention, crack, high safety, and its good uv protection features, pervious to light qualitative Hyman protection effect.
The safety of the material is not only considered into the mouth of the link, the e-liquid and silicone oil soaked from the vape pod, but also the key point of the use of safe. The pacifier grade silica gel, soft material and after high temperature disinfection, safer environment. As a seal, with good sealing, density sealed after extrusion.
D time has released nine kinds of taste, taste each style are so enthusiastic. Behind this thanks in top e-liquid suppliers and three-dimensional carved common professional adhere to quality, every batch of oil smoke d carved use shall follow the "triple check", the first heavy: professional inspection report issued by the supplier of the second: d carved on smoke oil material of the third party inspection report, the third: d moment of vape pod finished third party test report.
Flavors:I'm currently using VEEX V5 which has 9 flavors compared to RELX 5 which has 7.The most interesting thing is, if you have a VEEX device, you can use RELX pod; while you have RELX device, you can use VEEX as well. They are compatible with each other. What a coincidence.Veex Chinese tea is my favorite flavor and has a homey taste whenever it is used. The VEEK POD has a wide variety of flavors, with many fruit flavors such as lemon, strawberry, orange and so on.
High cost performance:The cotton cartridge costs $14.99, 21 percent less than its original price of $18.99. The ceramic cartridge costs $17.99, 5 percent less than the original price of $18.99. Price reduction but the product quality remains the same, the company can be seen to the new and old users of the feedback strength.The VEEX V5 ceramic coil vape pod is cool, silky and smoky when used. This vape pod adopts VEEX proprietary technology NCODE to ensure product quality and taste. VEEX V5 cotton coil vape pod is highly restored to taste when used.
I was introduced to e-cigarettes abroad, and VEEX helped me get through that difficult period. When I think of my friends and family, I pull out my e-cigarette. As a new e-cigarette user, VEEX is right for me. It has a variety of colors to choose from. After using it, I had a good experience. I recommended it to my friends when chatting with them. I hope they can have a try. They also bought this product at my suggestion and told me that the effect is good. I think VEEX e-cigarettes have become a kind of emotional sustention and link with friends. Friends who are far away from home, I hope you can choose VEEX when you are depressed, encounter difficulties, or miss your family and friends. Let VEEX relieve your emotions for you.