There are some differences between VEEX VI and VEEX V4
Jul 13, 2022 by veexshop
We compare VEEX V1 and VEEX V5 in several aspects including flavors, pods, battery life, product quality, customer reviews to find out which one is better. Through practical experience and practical operation and careful study, we came to the conclusion that VEEX V4 and VEEX V1 are different, but both are popular with consumers.In the following article, we will compare the companies' products VEEX V1 and VEEX4, which includes pods.
VEEX V1: 29/15 flavors
VEEX V1PLUS:27/5
VEEX V4: 9 flavors
VEEX V1 has 29 flavors including some fruit flavors such as lemon, grape, strawberry, watermelon, and if you prefer tea flavors, you can also choose dahongpao, V1 Chinese tea flavor PODS.It's worth mentioning that there are latte, Coke, and so on, and these flavors are worth trying out. There's always one of 29 choice flavors for you. If you don't like nicotine, the company also offers five different flavors to choose from, including watermelon and grape.The company took into account the needs of some users after the launch of V1 plus flavor is also very many, can effectively meet the needs of users. Increase the liquid content without increasing the price.VEEX V4 comes in 16 selected flavors such as Hawthorn, tobacco, lychee and more. There are fewer flavors than VEEX V1, but each one is worth choosing. The r&d and production of each flavor is controlled layer by layer to ensure that the product is liked by consumers. According to the current market feedback, each product is a hot seller. If you like it, please buy it quickly.
The VEEX V1DEVICE comes in 13 colors, each of which is very beautiful and meets the consumer needs of the buyer. Each one is very bright and bright, and we named it with Chinese culture. If you like Chinese culture, you should choose it. DEVICE design is very humanized, portable design is suitable for you to carry it in various social occasions. But don't think it's too small to be effective. When you use it, it produces thick smoke and gives you a strong feeling.It uses constant pressure technology to ensure a strong taste when you use it, giving you an unforgettable feeling. Its output power: 8-11W. The capacity of the battery is 380mAh, and the super electric power can meet the whole day of use once, which easily solves the problem of frequent charging. When you buy it, there are not only many colors for you to choose, but also a charging cable for you to solve the second purchase of ancillary products.And we also give you an instruction manual, so that you can get familiar with the product and get into a happy lifestyle.VEEX V4 comes in only eight colors, which is a bit less than VEEX V1, but for those who like solid colors, it's a good choice. The main colors are black, silver, purple, cyan and so on. When you use it, just inhale continuously for 3 seconds, it will light up and bring you a fresh visual experience. This product adopts intelligent 8W constant power output to continuously protect the smoke volume.
This product can be recharged very quickly and only takes 20 minutes to fully charge, saving you time so that you are fully charged all the time and don't have to worry about running out of power. The battery capacity is also 380mah and can last for a long time. Get the same free items as VEEX V1.
The most interesting thing is, if you have a VEEX V4 device, you can use RELX pod; while you have RELX device, you can use VEEX V4 as well. They are compatible with each other. What a coincidence.
Pods

– VEEX V1 vs VEEX V4
VEEX V1:1 pack (3 pods), 2mL/pod,3% nicotine
VEEX V4:1 pack (3 pods), 2mL/pod,3% nicotine
Both VEEX V1 and VEEX V4 come with the same POD package specifications. The same is true of nicotine. In order to meet the needs of the vast number of consumers, there may be some customers do not like POD containing nicotine, the two products have zero nicotine POD. Consumers can trust to buy, buy suitable for their own POD.
Product quality – VEEX V1 vs VEEX V4
VEEX V1:VEEX v1 is said to have some device not working problems as well.
VEEX V4:VEEX v4 is said to have some device not working problems as well.
No matter V1 or V4, there will be some small problems in the use of electronic products, which is inevitable. The company in the production of research and development after careful screening to ensure that each product safety is guaranteed.
As a classic series of VEEX products, VEEX V1 has sold more than 100 million products. It adopts transparent pacifier grade PCTG material to ensure safety and quality in the process of production and use.Chinese cotton is used in the production, which is of high quality, soft and high density, so that the taste of reduction is very high. And oil absorption and oil conductivity is very good, to ensure that the use of the process of good experience.
VEEX V4 uses intelligent constant power technology, paired with a pie-shaped through port, to make the product feel delicate and powerful. It is worth mentioning that the original NCODE atomization core technology is adopted, and the pursuit of the ultimate taste is the concept of VEEX V5.And in the use of cotton is the use of organic cotton core, the use of the product has a full taste. The VEEX V5 comes with a double wire and wrap for outstanding taste. In the process of use, condensate reflux and oil storage again make atomization more abundant, better experience.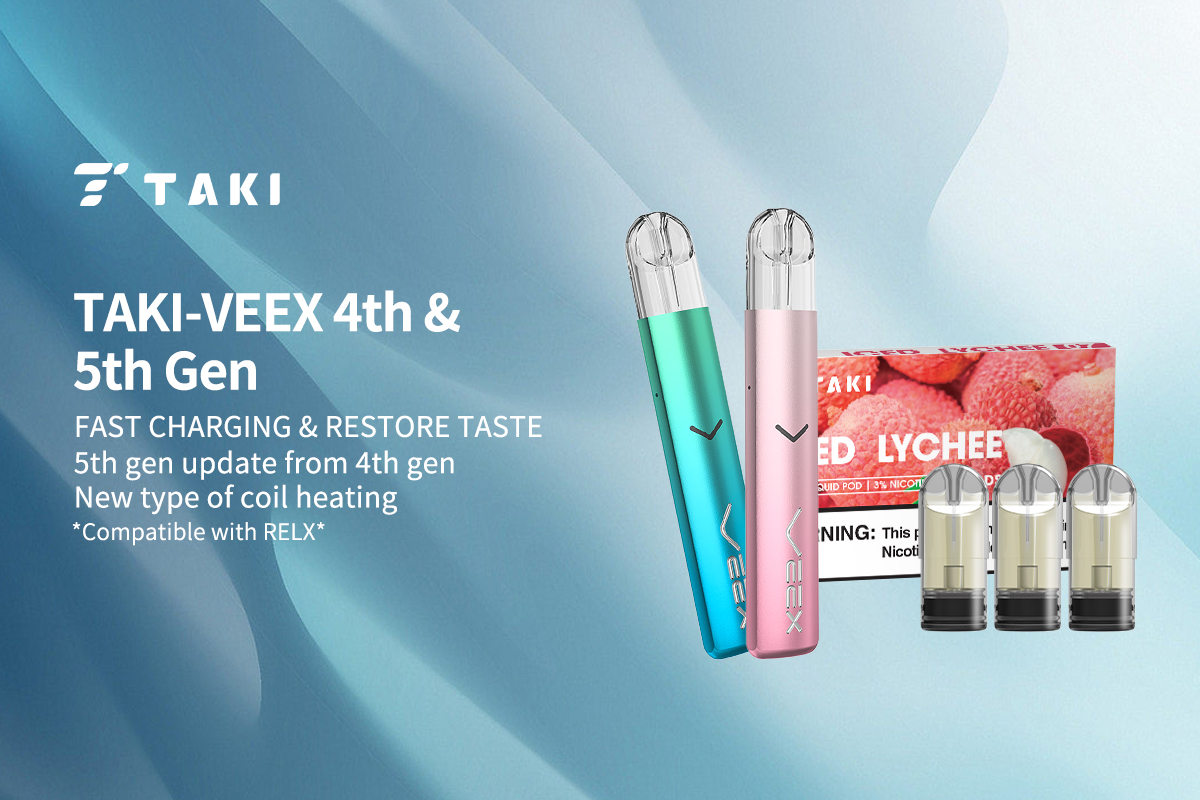 According to this article, both VEEX V1 and VEEX V4 have their own characteristics. Every consumer has his or her own preferences, and VEEX provides a wide range of choices in color, flavor, ingredients and other aspects to meet the needs of consumers. VEEX V1 and VEEX V4 have something in common and something different depending on how you choose.Whether you choose VEEX V1 or VEEX V4, I believe you will choose VEEX.