Trying to decide between disposable and rechargeable e-cigarettes?
Jun 23, 2022 by veexshop
If you are buying an e-cigarette at VEEX for the first time or want to try a new device, you may be wondering if a disposable e-cigarette or a rechargeable e-cigarette is right for you. Both types have their own unique strengths - let's take a closer look.
Disposable puff bar Electronic Cigarettes (TAKI T50&T30)
Disposable e-cigarettes are usually sold individually, although you can find more economical packs of 12, such as these. Each is usually equivalent to a pack or two of cigarettes. These devices are designed to be discarded after a single battery charge cycle. Disposable e-cigarettes are everywhere, providing a convenient, simple way to e-cigarettes and an excellent alternative to smoking.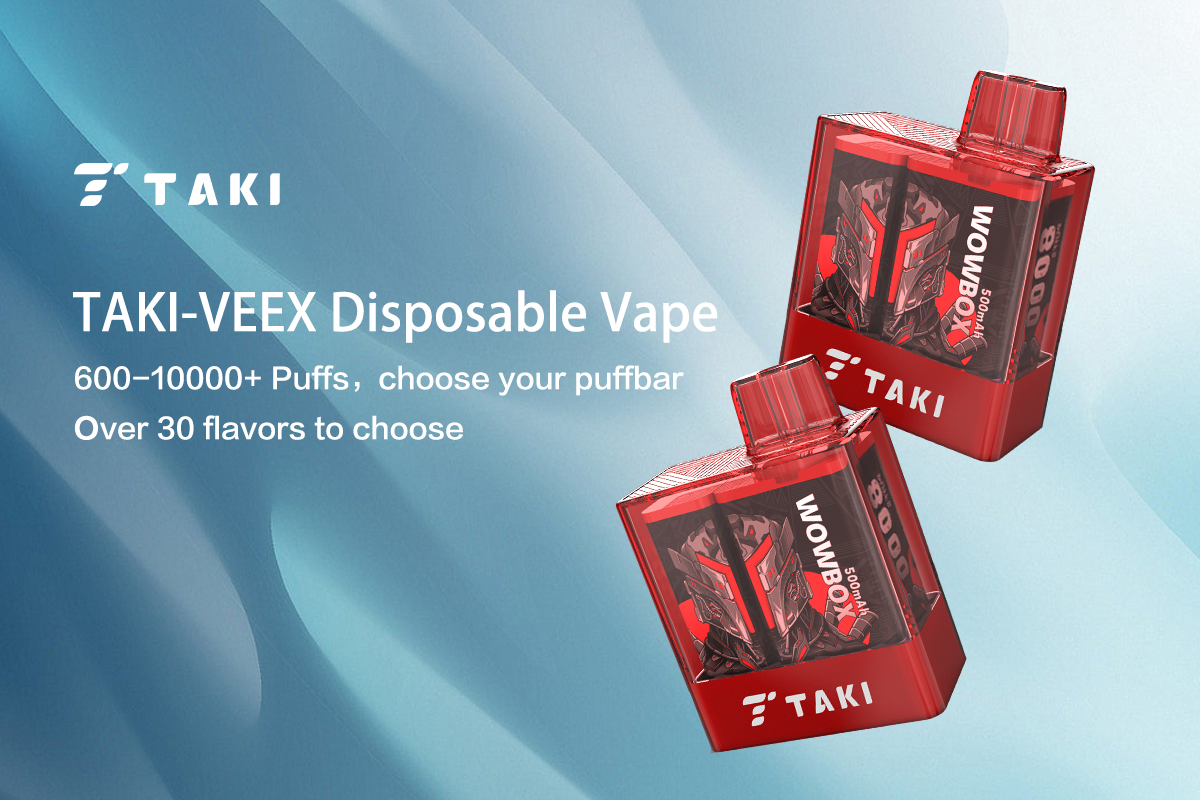 In order to meet the needs of users, we try to make innovations on the TAKI T series. The capacity of the battery and the capacity of the e-liquid is improved to a greater extent. You can even make one pack equivalent to 10 packs of cigarettes without losing the taste. This series of products are also our best-selling models.
Disposable e-cigarettes are ideal for recreational e-cigarettes. They are portable and inexpensive, making them ideal for outings and travel. They're also a great way to try out different flavors before making a major financial commitment to e-cigarettes. However, it's important to remember that the quality of battery power in disposable devices will naturally be slightly inferior to rechargeable models, which can affect taste and feel to some extent - so keep that in mind when you're vaping .
While single-use e-cigarettes won't save you any money in the long run, it can be a great low-cost way to experiment, or a handy option to have on hand when you're out and about. Some people prefer rechargeable devices because with disposables, you don't have the option to change cartridges and try a different vape juice (though disposable vapes do come in a variety of flavors). For many, one of the biggest advantages of vaping over smoking is the ability to customize your experience with different vaping oils, nicotine levels, new technologies, and more, options that are limited to single-use items.
Rechargeable Electronic Cigarette (VEEX V Series)
Almost all seasoned vapers use rechargeable devices rather than disposables for everyday use. The main reason is probably better quality. High-quality rechargeable devices like the VEEX V5 have better build quality, better atomizers, stronger and longer-lasting batteries, and more, all of which combine to create a better overall vaping experience. Some of these devices come with a portable charging case to ensure you stay charged wherever you go.
Rechargeable devices also tend to have more flavor options. Some batteries and chargers are interchangeable, giving you the opportunity to easily try a variety of e-liquids. These devices also have pre-filled disposable cartridges and refillable blank cartridges that you can fill with the vape juice of your choice. Buying your own e-liquid bottle for refillable blank cartridges is also a great way to save money, plus the rechargeable device is just more valuable in the long run.
Most importantly, which one is best for you depends on your needs, preferences and goals. If you just want to try e-cigarettes without spending a lot of money, or if you want to find a good, simple, portable e-cigarette to take with you, choose a disposable e-cigarette. But if you're looking for a wider range of options, lower long-term costs, and higher overall quality, a rechargeable device might be a better option for you.