Vaping Guide For Beginners 2022
Apr 13, 2022 by veexshop
Today we talk about a new device form WUUZ, the S12 Storm,,which is a POP-MOD designed for both nicotine salt e-liquid and regular e-liquid.There have been a lot of rumors about it,so i was very excited to get my hands on it and start the test.
First impressions of the S12 Storm is that it comes in an super cool looking package,Inside there is the S12 device,type-c Cable,User Manual,Mesh Coil Pod .Engonomic design ,comfortable hand feeling ,agile to operate. You will feel so good when you hold it on your hand.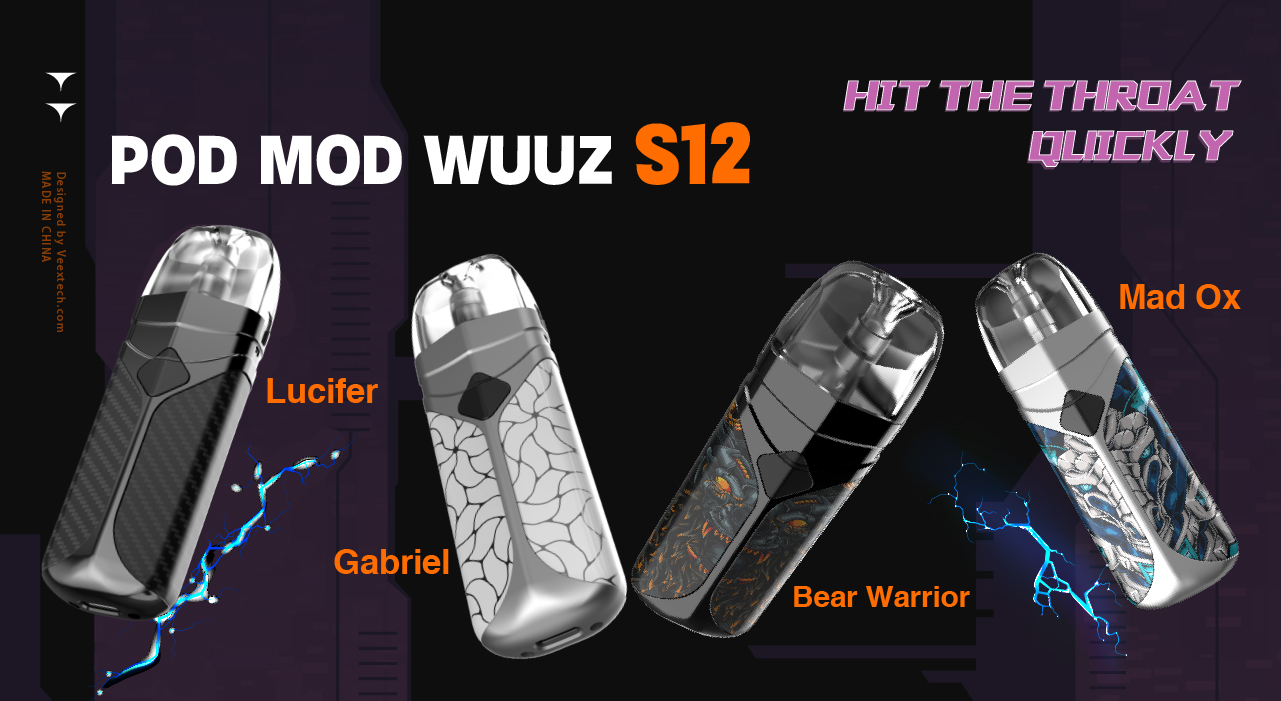 You can see its have large air inlet and small air inlet in two side,on the middle of the device you can find the fire button.
Anyway,To use the S12,you have to take out the pod and pull out the rubber plug,let it stand for 30-60 seconds before using.With 5 clicks the mod turn on and then you can start to enjoy your vape trip!
S12 designed for regular mode and surging mode.Use directly after turning on the device,its power is 16W, If you hold down the mode switch button,its power is 18W. But so remember, When you insert the pod,insert the airway mark towards the small air inlet is Mouth-to-lung mode.When you insert the pod,insert the airway mark towards the large air inlet ,is Direct-to-lung mode.
It also has 3 LED indicators that will help us to choose the power mode and understand the battery level.In regular mode,LED blinks blue,in surging mode the LED blinks purple.When the LED blinks red,and flash rapidly ,the battery runs down. When charging,the LED blinks red and will light up.When the battery is full of charged, the LED blinks blue and will be always on.
In conclusion, i really like the simple sleek design of the S12 POD MOD.It is really cool and compact.With a 800mAh built-in battery,it enjoys a long battery life.
Thank for reading ,dear vapers.I really appreciate it .I hope this review was helpful to you .If you want to buy this device ,you can buy it form VEEX ONLINE SHOP! Keep vaping!
Last:Why The Antarctic Ice Flavor Is The Hot Selling Product Of WUUZ?
Next:Why Is VEEXTECH Famous As Compared To Other Vaping Devices?