Veex free nicotine vape pods.
Jul 25, 2022 by veexshop
In the vape industry, free nicotine vape pods have become a new trend, and many brands have launched their own free nicotine products. In this context, Veex has also launched its own free nicotine vape pods,which we introduce you in the following article.
Free nicotine vape pod—there is no nicotine in vape pods, but they can still have abundant flavors. In other words, people don't get addicted to free nicotine vape pods, which means they are suitable for both smokers and non-smokers.
Realistic need of free nicotine vape pods
As we all know, the emergence of vape has greatly reduced the harm of traditional cigarettes to people. A decade of international studies has proven vaping is miles safer than smoking, with Public Health England resolute that vaping is 95% less harmful than smoking combustible cigarettes. Vape is also regarded as an important tool to help people get rid of their addiction to traditional tobacco.Some people suspect that vape will attract people who have never smoked. The ASH Year 10 Snapshot surveyed 26,000 Kiwi students. It confirmed that vaping is not hooking non-smokers, with just three percent of those who vape daily having never smoked. Facing people's doubts about the harm of vapes, executive coordinator of the Coalition of Asia Pacific Tobacco Harm Reduction Advocates (CAPHRA) Nancy Loucas says, "New Zealand is at risk of not achieving its decade long Smokefree 2025 ambition if commentators continue to demonise the most effective quit-smoking tool we have right now."
Compared with ordinary vape, free nicotine vape has less harmful effects on the human body,which means it's a better quit-smoking tool. From traditional tobacco to ordinary vape, from ordinary vape to free nicotine vape, free nicotine vape have perfected the process of people quitting smoking.
Therefore, we can draw the conclusion that the emergence of free nicotine vapes is in line with people's pursuit of healthy body and the trend of the times.
Vape industry's attitude to free nicotine vape pods
The development of free nicotine products is in line with the trend of the vape industry. At present, in the context of gradually stricter control of vape industry worldwide, many brands are actively developing their own free nicotine products, among which herbal atomization is the focus of attention of various brands. 2022 is known as the first year of herbal atomization. In addition to traditional vape brands, there are also some pharmaceutical companies that participate in the development of herbal atomization, which shows that free nicotine products, especially herbal atomization products, have a vast prospect.
Veex's aim and ambition
The coil of Veex's research and development of free nicotine vape pods lies in the development of herbal series products. The herbal atomization currently follows the visual design of Veex's previous explosive products, while the original atomizing liquid is replaced with a pure natural herbal extract. The main ingredients are such as ginseng, cinnamon, honey, honeysuckle, wolfberry, licorice, etc., Different herbs have different active ingredients, and their affects are not the same. Veex uses advanced extraction technology to extract the active ingredients from natural herbs and inject them into the natural atomizing liquid. The experimenter has tested hundreds of times in the research laboratory to prove that the atomizing liquid maintains the beneficial ingredients and active factors of the herb.
The founder of Veex said: "Veex technology is developing in the direction of atomization and great health. The emergence of herbal series products is Veex's response to the era of great health atomization. Veex is based on 'health in breathing'".
Besides, Veex is working hard to continuously improve the quality of products, hoping that these green and healthy herbal series products will not only be good for users, but also speak out through the concept of "health in breathing", so that great atomization health will become the trend of the times.
Veex free nicotine vape pods
Veex V1 Nicotine free pods: 3pods/box, 2ml/pod, eight types of flavors
Veex V1 Plus NIcotine free pods: 3pods/box, 2.2ml/pod, five types of flavors(Popsicle, Iced antarctic, Biluochun tea, Iced watermelon, Iced grape)
Taki R5 0 Nicotine Bottled E-liquid: 30ml, eight types of flavors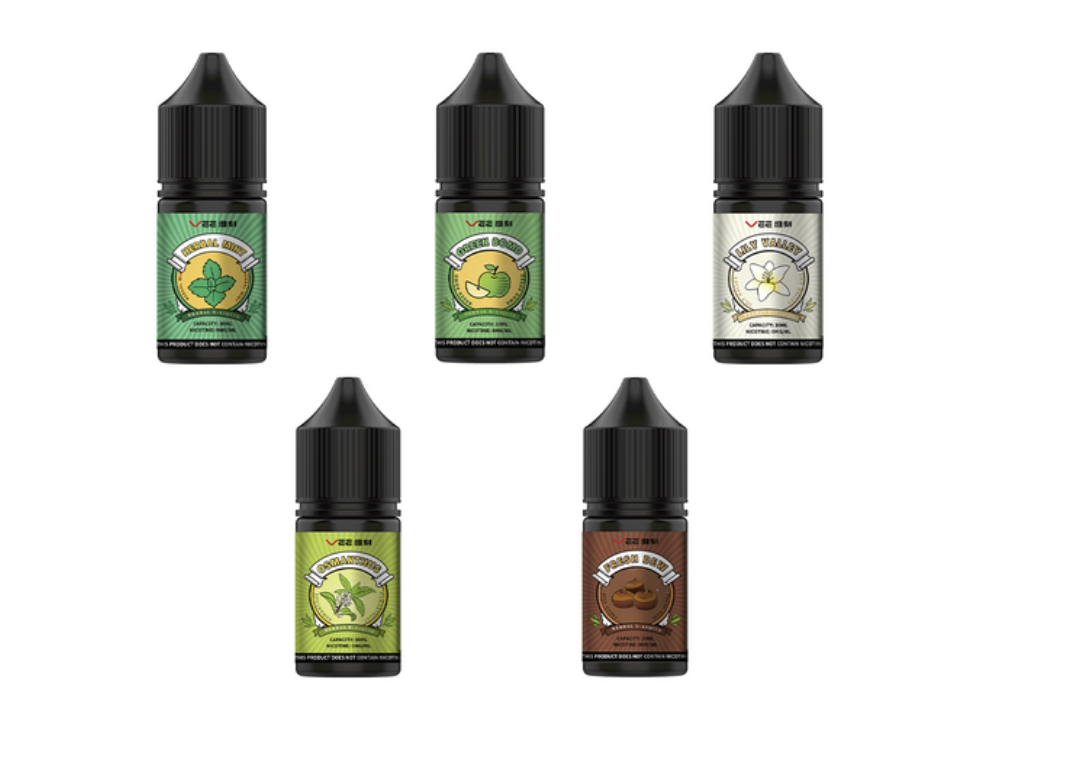 As early as the establishment of the brand, Veex discovered the huge market potential of free nicotine products and started research and development. Starting with the V1 series, Veex's free nicotine products have gone through four generations. Among them, the herbal series is widely praised by consumers in market for its high quality and attractive flavors, which has become Veex's star product.
Besides, Veex's free nicotine vape pods are compatible, which means consumers who are accustomed to using other brands 's vape devices can also purchase Veex's free nicotine vape pods separately. In other words, customers can easily try Veex's pods, and I believe they will not be disappointed.
Consumer's reviews to Veex free nicotine vape pods
Veex free nicotine vape pods continue the high quality of Veex, among which the herbal series is especially favored by consumers. Veex use its popular flavors in free nicotine vape pods, for example,Chinese tea, Biluochun tea and Iced antarctic, which are widely praised by consumers.
Recommended people
People who are quitting smoking. As mentioned above, free nicotine vape pods can help people who are quitting smoking in the final stage. Although there is no nicotine in vape pods, they can give people psychological comfort and help people get through this period smoothly.
People under great pressure. Free nicotine vape pods are friendly to non-smokers, because they does not contain nicotine. Free nicotine vape pods can smooth the body and mind, especially the herbal series of Veex. Natural herbal ingredients soothe spirit and are good for people's health. And they can also reduce the probability of people seeking nicotine and alcohol for stimulation.
Attention!Although free nicotine vape pods are not addictive, Veex still prohibit minors from using them. Protecting the health of minors has always been Veex's business philosophy and rules. And they are also not recommended for pregnant women and old people.
Where to buy
VEEX official site: https://www.veexshop.com