Being in a dilemma: How to choose between MOTI S Lite and VEEX V4?
Aug 29, 2022 by veexshop
MOTI and VEEX are both congregated companies dedicated in vaping industry which integrates research and development, distribution and retails. Currently, both own various product lines. For most of vapers, they may be in a dilemma to choose the device the most suitable for themselves of different brands. So, we choose two devices from MOTI and VEEX to make a comparison, so that consumers have a chance to deepen their understanding and make reasonable consumption choices. Let's see the great differences of MOTI S Lite and VEEX V4.
Appearance – MOTI S Lite VS.

VEEX V4
In terms of craftsmanship, the equipment uses an aluminum alloy anodizing process and has a gradual color created by CNC (Computer Numeric Controller) milling technology. The edge and corner design on the side reveal a bold modern beauty.
VEEX V4 Vape Device has an attractive design because its metallic aluminum oxide material with a satin smooth finish makes it sleek, elegant, and trendy all at the same time. It also has the gradual color.
Visually, the two products have their own distinctive designs which perfectly match the exquisite appearance and structure, making the equipment easy to carry.
Color – MOTI S Lite VS. VEEX V4
MOTI S Lite has four colors: Knight Black, Sunset Violet, Lagoon Blue and Flame Red. These colors are relatively common.
From the official website, we notice that VEEX V4 vape device has eight colors to choose: Emerald Cyan, Gilt Black, Berry Pink, Matcha Green, Blossom Violet, Rose White, Gem Blue and Galaxy Grey.
By way of comparison, we can find that VEEX V4 vape device owns more quantities of color than MOTI S Lite. With subdues colors and bright colors, whether at a party or at work, you will find the most fit color and use it at any time.
Price – MOTI S Lite VS. VEEX V4
MOTI S Lite: $39.90
VEEX V4: $39.90
We can clearly see that MOTI S Lite is more expensive than VEEX V4. Besides, during the process of buying VEEX V4, consumers can get a discount which makes it cheaper than original price.
So, in terms of price, VEEX V4 is the best value for money.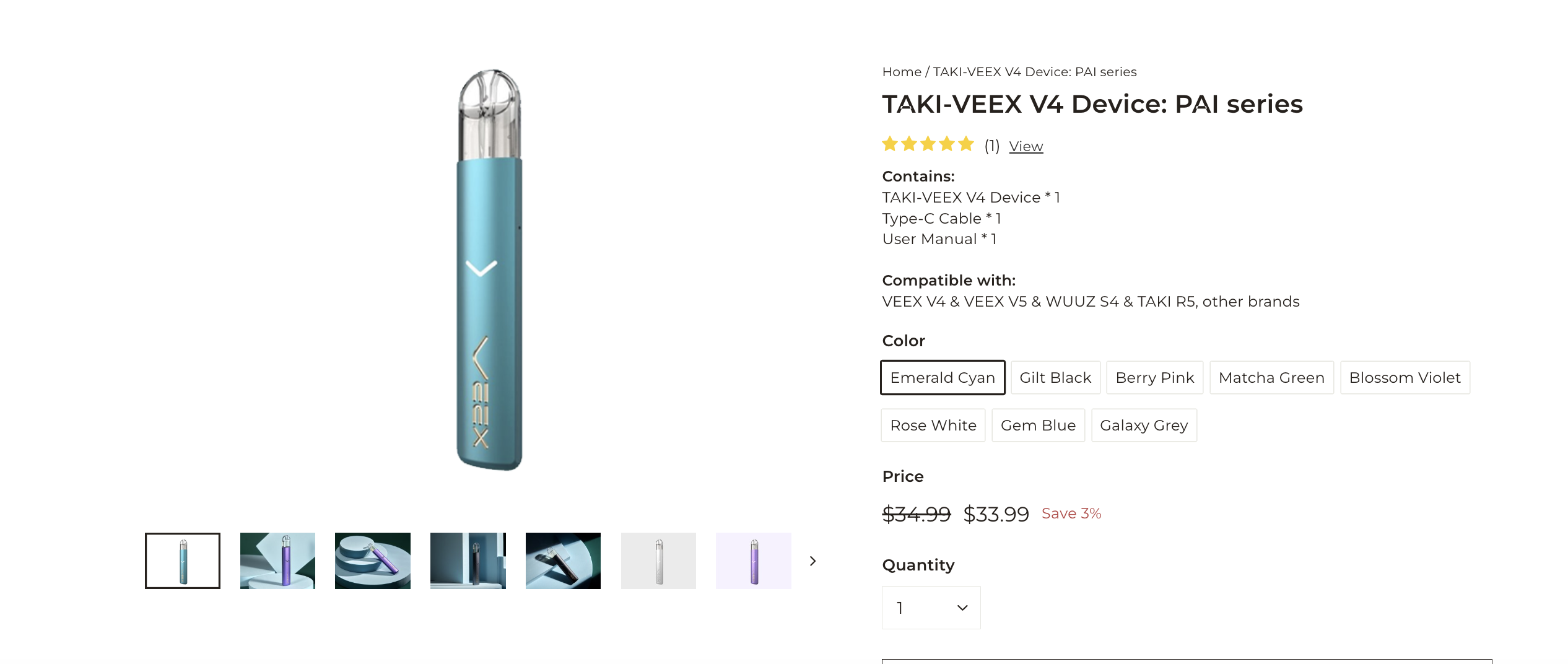 Battery Life – MOTI S Lite VS. VEEX V4
MOTI S Lite:400mAh
VEEX V4:380mAh
There is a little difference of battery capacity between MOTI S Lite and VEEX V4. The battery capacity of MOTI is larger which means it holds an electrical charge for longer periods of time. However, the difference is not significant. After a period of use, il can be found that MOTI S Lite and VEEX V4 both show a long battery life.
Charging Time – MOTI S Lite VS. VEEX V4
In the modern society, time is of great importance. The demand for fast charging has been driving manufacturers to innovate performance. So, we have searched for charging data on both devices. The data will be helpful for your consumption choice.
Fast charging is a feature of VEEX V4 Vape Device. Its charging current is 1000mA which can achieve a full charge in 25 minutes. Comparing with VEEX V4, MOTI S Lite has a lower charging current. Therefore, its charging time is also relatively longer which takes almost 60 minutes.
In view of the above, for the vapers who purse the fantastic charging experience, VEEX V4 is a better choice.
Containment – MOTI S Lite VS. VEEX V4
MOTI S Lite: 1 Device + 1 Type-C Charging Cable + 1 User Manual
VEEX V4: 1 Device + 1 Type-C Charging Cable + 1 User Manual
In terms of containment, this is no difference between the two devices.
Pod

– MOTI S Lite VS. VEEX V4
MOTI S Lite :
Compatible Pod: MOTI S Lite Premium Pod
There are only a handful of flavors to choose from in the MOTI S Lite range which causes great inconvenience for the subsequent use. The quantity of the pods' flavors is also limited. So, for those who have the will to try more flavors, it is a big drawback.
VEEX V4 Vape Device:
Compatible Pod: VEEX V4 Pod / VEEX V5 Pod / TAKI R5 Pod / WUUZ S4 Pod / RELX Pod / other brands' pod.
The kinds of the compatible pod are various which greatly facilities subsequent use. When you purchase the V4 Vape Device, you won't be stuck with the same old flavor. The compatible pods come in a variety of flavors. Consumers will get more taste experience by choosing different pods and find the ones that they love.
We have created a table to help you know more about the features of these two brands' pods.
| | | |
| --- | --- | --- |
| | MOTI S Lite Pod | VEEX V5 Pod |
| Capacity | 1.8ml | 2.0ml |
| Material | PCTG Food Material | PCTG Food Material |
| Technology | FEELM | NCODE |
| Design | 5-layer leak-proof structural | 5-layer leak-proof structural |
| Nicotine | 20mg | 30mg |
The quality of both pods is reliable. Thanks to the used technology and design, it ensures every drop of liquid to be conducted evenly and holds the liquid to avoid gravity leakage.
Verdict – MOTI S Lite VS. VEEX V4
MOTI S Lite:
Pros: It's a very quiet vape which looks sleek and fits easily into a shirt pocket. It also owns smart wattage 6W – 8W.
Cons: Its limited pre-filled pod flavors is a big drawback. And the Activating Turbo mode didn't always work.
Pros: VEEX V4 is extremely comfortable to hold. Fast charging which only takes 25minutes to achieve a full charge is its greatest feature. Besides, it doesn't exist the problem of leakage. It also owns various pods' flavors.
Cons: There is no open pod system.
We have compared the above in terms of appearance, color, price, battery life, charging time, containment and pod. Analyzing the above information and based on an objective perspective, we have concluded a verdict.
At last, your choice of vaping device is personal matter. Each of these devices has its own merits. It is difficult to choose between them in terms of performance. However, in terms of value for money, VEEX's price advantage and fast-charging feature will stand out more.
It was a difficult process to gather the relevant data, so we hope the information will help and give you a certain reference for your shopping choices.