Choose VEEX V1 or VEEX V4
Aug 03, 2022 by veexshop
In this highly Internet society, information exchange is a fairly easy thing. For example, by the time you read this article, we will have connected and maybe become friends. My name is Daniel. I was born in Paris, France, and moved to Washington with my parents, a French father and an American mother, and now I work in New York. I am a programmer, because I was born in the romantic capital of the world, I am also a very interesting person, I have many friends, often get together, everyone will smoke, drink, chat and dance. In the beginning, people would choose Marlboro or some cigars, but I don't remember when e-cigarettes became the new fad, and I made the transition from traditional tobacco to more healthy e-cigarettes. So far, the brand I use most is actually from China. Although I tried countless products, this Chinese brand finally stood out and became my favorite. I remember that it was a product I saw in the convenience store when I went to the gas station to fill up. Its excellent appearance and good price attracted me. Through constant comparison and experimentation, I eventually became a big fan of VEEX. Please read on and I want to share my valuable experience with you.
USE other brands
At first, the most popular e-cigarettes in the U.S. were made under the Brand JUUL, which had a near-monopoly on the U.S. market. Logical, I started contact is Mr. JUUL electronic cigarettes, and jobs' research and development of the IPHONE, the cross time tobacco substitutes for consumers in the market and a huge shock, in just a few weeks, and in short supply, but early in the quality of the product itself also has certain problem, so the public for its mixed reviews. There have been a number of e-cigarette explosions. However, with the progress of technology and the entrance of more brands, products gradually mature, consumers can choose more brands, competition is the driving force of product evolution. For me, an old smoker, the requirement of the electronic cigarette is still relatively high, so for a long time, I keep trying a new brand, most during the probation period was I give up, and then in the past two years, the Chinese brand of electronic smoke poured into the U.S. market, almost makes me see spent eyes, until a chance, I've got VEEX products.
I started using VEEX V1 about half a year ago. After understanding the basic parameters of the product in detail, I didn't feel too surprised. Because I was born in engineering, I had a little understanding of the design structure of e-cigarettes. It didn't bring me much surprise in terms of technology, but in terms of the color matching of the device, I was really impressed. And the amount of smoke produced by V1 is also very enough, and you can feel satisfied every time. The biggest highlight of the VEEX V1 is the combination of V1 pods, especially the variety of flavors that I am excited about, such as Chinese tea, grape, lemon. In the process of following VEEX brand, I changed the equipment I use daily and chose the latest VEEX V4. On the one hand, the equipment is more excellent. On the other hand, V4 can match the pods of VEEX V4 or V5, or even the new pods coming out later. I can't promise that I will always use VEEX products, maybe tomorrow I will switch to another one, but in this article, I am happy to share my user experience with you and show you the actual difference between V1 and V4.
VEEX V1 vs VEEX V4
Different models, different consumers have different preferences. Today's comparison is for reference only, welcome to leave a message interaction. Due to product updates and upgrades, some information may be different, please compare yourself.
Price – V1 vs V4
VEEX V1 device: $32.99
VEEX V4 device: $33.99
Comparing the price of the two products, the VEEX V4 is only $1 more than the VEEX V1, which is not easy for a new product, so there is no more cost pressure to buy the V4 directly because price is so important to new users.
Flavors – V1 vs V4
VEEX V1: 45 flavors, 30 for Ceramic Coil Pod, 15 for Cotton Coil Pod
VEEX V4: 27 flavors, 15 for Ceramic Coil Pod, 7 for Cotton Coil Pod, 4 for 0 Nicotine Pod
The VEEX V1 is less than twice as tasty as the V4, but the V4 is more diverse, with 0 Nicotine Pod allowing more people to try e-cigarettes without worrying about nicotine addiction.V4 taste is less the biggest reason is the market choice, some V1 unpopular taste, brand side in V4 did not launch, so we do not have to worry too much about the choice of their own proper taste, leaving are verified by the market..
Pods – V1 vs V4
VEEX V1: $16.99/1 pack (3 pods), 2mL/pod, 3% nicotine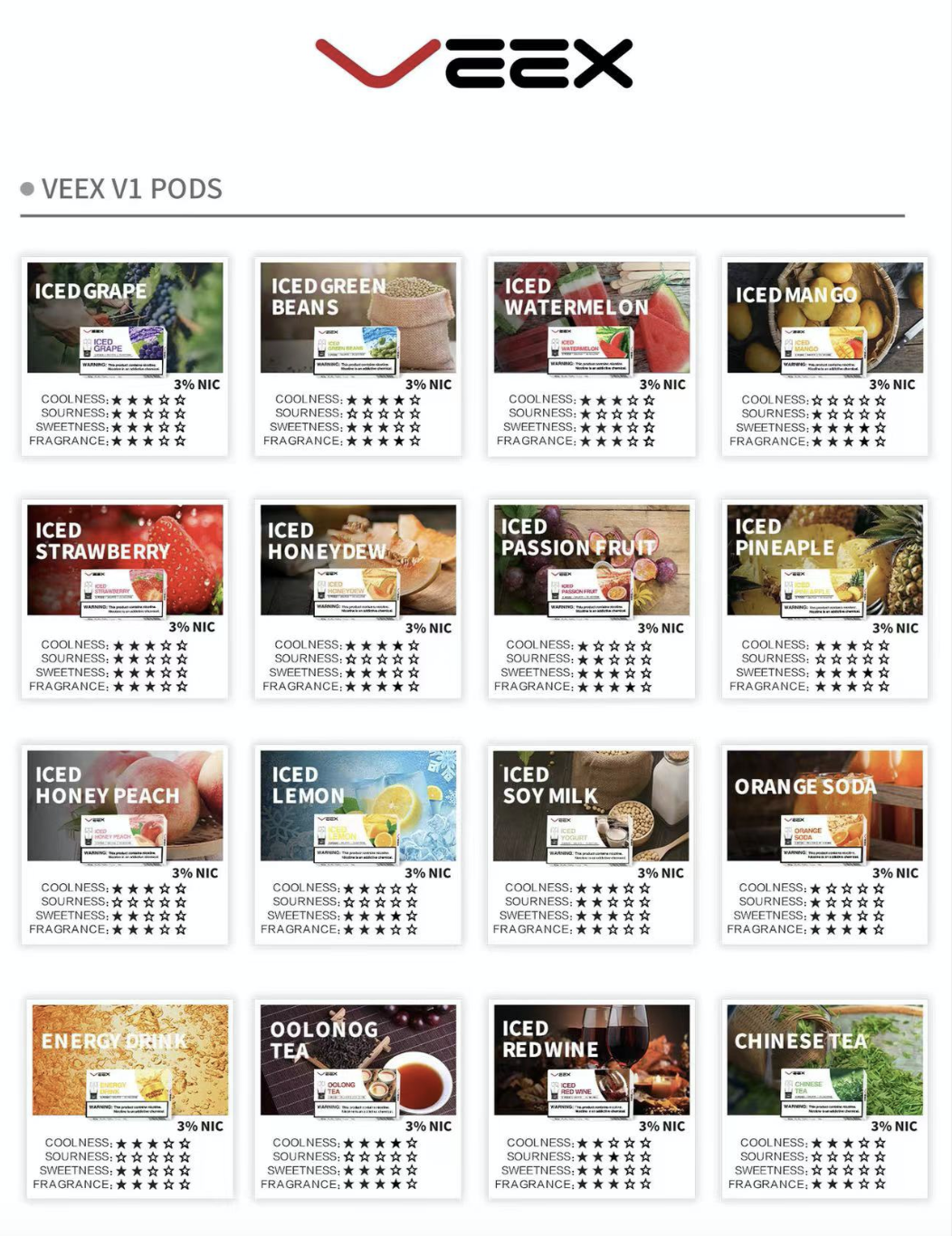 VEEX V4: $17.99/1 pack (3 pods), 2mL/pod, 3%/0 nicotine
There is no big difference in the price of pod between the two, or a dollar difference, which is reasonable for the new generation of products.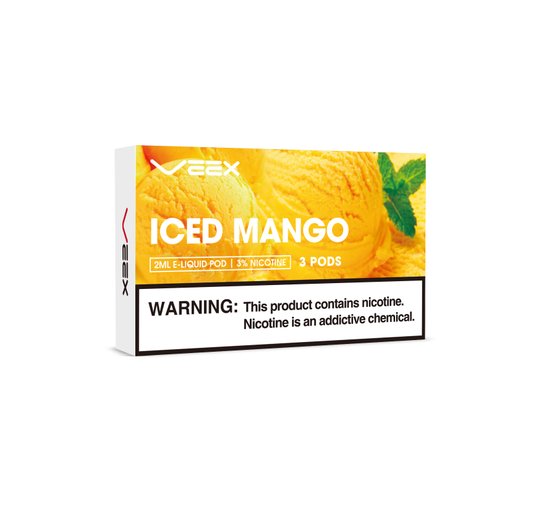 Battery - V1 vs V4
VEEX V1: 380mAh
VEEX V4: 380mAh
V1 and V4 have not been updated in terms of battery capacity.
Charging convenience – V1 vs V4
VEEX V1: VEEX V1 devices use an ordinary Type C cable to charge, taking 45-60 minutes to fully charge.
VEEX V4: VEEX V4 devices also use an ordinary Type C cable to charge and supports fast charging, taking just 20 minutes to fully charge without worrying about continuous use.
Device appearance– V1 vs V4
VEEX V1: The appearance of V1 device is simple and elegant, the brand logo is conspicuous, and 13 colors can meet the needs of all consumers.
VEEX V4: The V4 device also has 8 colors.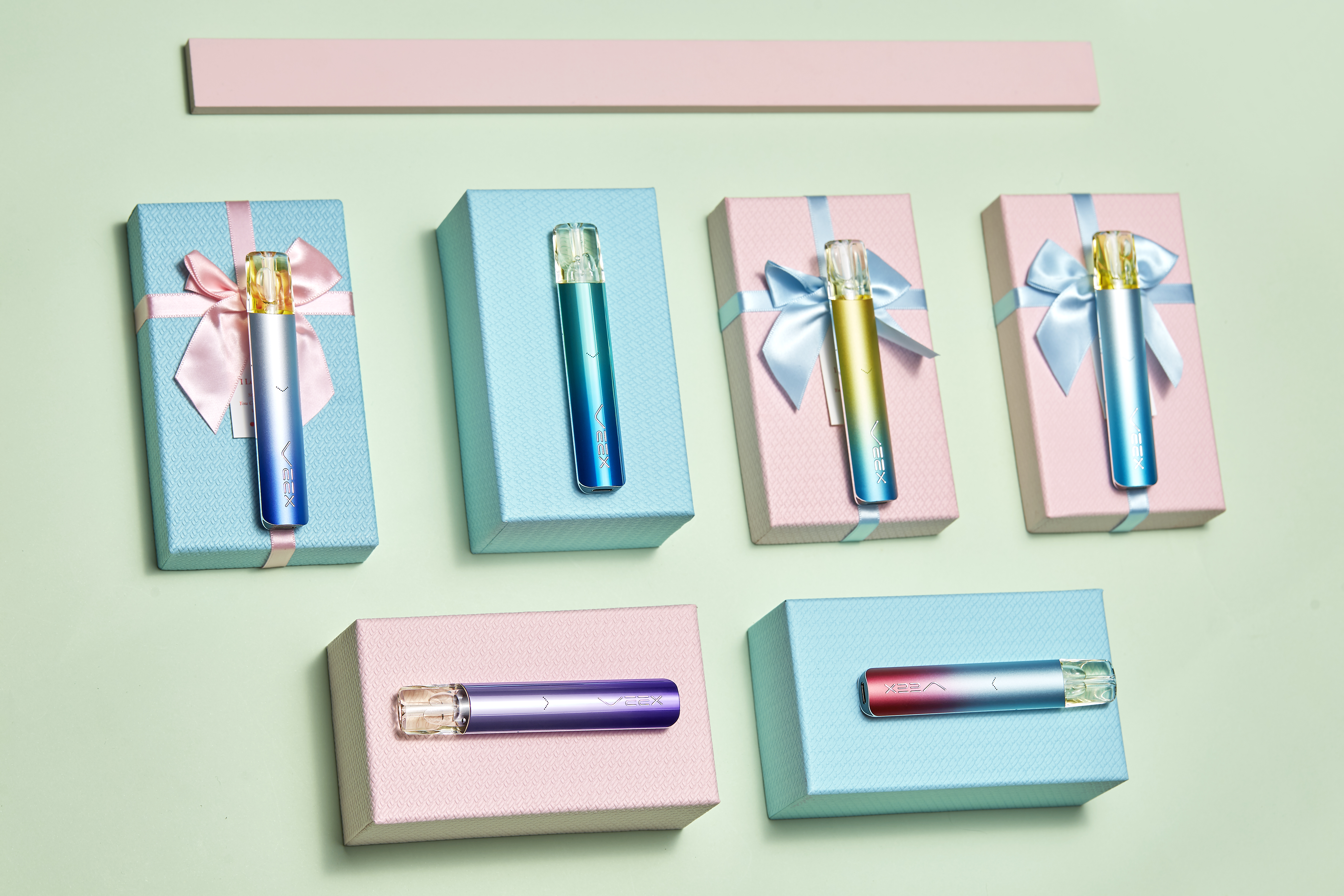 Conclusion
In terms of basic specs, the differences aren't that great, with the V4 devices doing slightly better in terms of charging and the V1 devices having more options in terms of looks. The price of pod has not been raised too much, and the taste is further screened and improved on the basis of VEEX V1, which can meet most consumer needs. The comparison of products is just my personal opinion. Different people have different feelings about different taste.
Tips
Minors are not allowed to smoke, and my articles are not allowed to be read by minors.