TAKI T50 disposable vape bar puff, first choice for my vape
Aug 10, 2022 by veexshop
Waking up at 5:00 in the morning to find you're not here and everything's changed. When you close your eyes and see the past, the more you think about it, the more you realize that the one driving you crazy is not the one you love the most. It's just that at a certain point, she's gone first and then she's lost. Maybe it's more of an unwillingness. We wished we had our own house back then, and now we have it near where we worked.
Half an hour passed, went to the living room in the dark and felt the smoke box. Find the TAKI T50. In this mood I just want to smoke the TAKI T50. All the other brands are for emergencies just in case. I'm not allowed to smoke for half an hour when I wake up, and it's best not to smoke even in the morning because it quickly increases the addiction.
TAKI T50 is not only good taste, if the mood is not happy, or miss, or unwilling to order a piece of white sand, you will think that I have been like this, even with white sand, the more I think the more angry. But at this time if you light a Zhong hua, you will feel that you are lucky to leave her. The TAKI T50 is like the Zhong hua of cigarettes. I don't miss it anymore.
Here are my thoughts on why I chose the TAKI T50. First, Small device, Big Smoke. Smaller devices can produce thick fumes. I was intoxicated by what I seemed to see and what I didn't see in the smoke. Dreams, bubbles, will eventually disappear.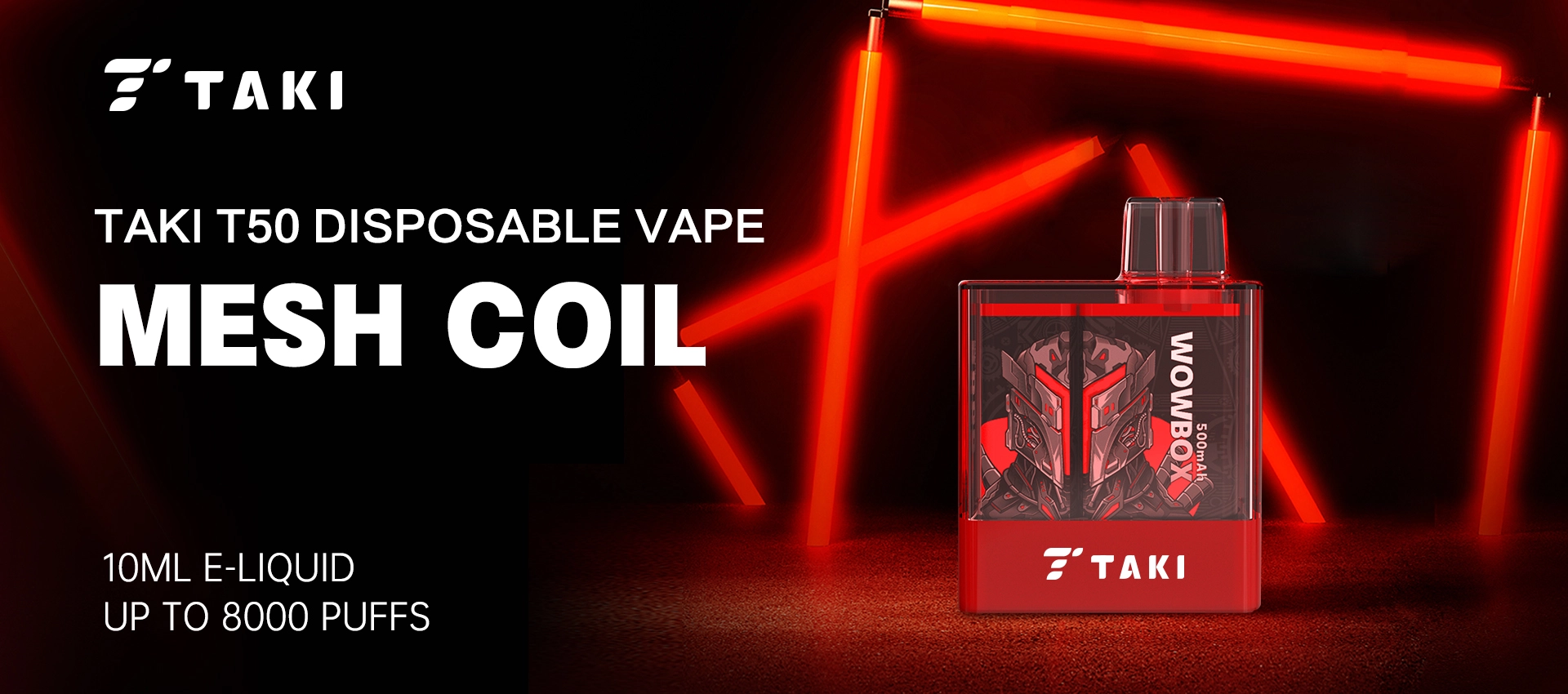 The second point is that TAKI T50 adopts Dual Mode DTL Mode/MTL Mode. You can switch between the two modes depending on your environment and your mood. Whether you want the smoke to stay in your mouth or into your lungs, whether you want it to be tasted or not, each feeling is full of stories. Smoke is not smoke, smoke is unforgettable our once.
The third point is that this e-cigarette has 10ml e-liquid, up to 8000 Puffs. Compared with most e-cigarettes on the market, this quantity is relatively large and can meet the needs of most consumers. 10ML and 8000puffs can stay with you for as many days and nights as possible, she will abandon you, and TAKI T50 will always be there for you, rich or poor.
Fourth, the device has a 500 mah battery. You can easily spend a whole day on a single charge, and you don't have to worry about charging the battery when it's low. It's like love. If she loves you, she won't make you worry about her leaving. Type-c charging method can let you easily solve the problem of adaptation, all aspects are for your convenience, how can let you increase the annoyance.
The fifth is New "water-based Eliquid" technology. Mouth is not dry. As an e-cigarette, the taste is very important. TAKI T50 has a variety of flavours to choose from, including ICED PASSION FRUIT and ICED ANTARCTIC to make you feel ice-cold in summer, and GREEN TEA to make you feel the aroma of GREEN TEA. Among the many flavors, there is always one to suit you and accompany you through every moment.
Why not choose other brands such as Elf, Vapor Lax, Hyde, Es Co? Because some problems are found in the process of use. Vapor Lax, Es Co according to the feedback of some users, it is easy to leak oil during the operation, and it is easy to have problems. As long as it is accidentally dropped to the ground, there will be leakage of oil. And in the use of the process is easier to plug. More importantly, the price is relatively high in the industry, but the product experience is not so perfect.It is like love, full of longing and devotion, but the end is sad.As for the ELF e-cigarette, many users have good comments on this e-cigarette, but personally, I think this product is not particularly brilliant in China, any domestic manufacturer can make it, and the taste is not so amazing, so I am very curious about why this product is so popular. It may have something to do with its promotion methods or product distribution channels. After all, Love Miracle has been deeply cultivated overseas for many years and has many channels. Every product has its audience. Some people love it, some people hate it, and the reason is that there is always one brand for you. As far as I am concerned, my love for TAKI T50.500 mah super long storage is its shining point, and 8000 puffs is the reason for my love. May later encounter better than its products, but there is a love is it.Compared to other pen-like e-cigarettes, the TAKI T50 is a small, boxy magic box that produces thick smoke with each puff. The design of a small box is more heavy in the hand. I think the design and development of a product should always be innovative. The design of TAKI T50 is really suitable for me to experience the feeling of recalling the past and looking forward to the future when I am alone. That's probably how men grow up.
Since we were apart, we've met people with the same name as you and people of the same origin. The past is the past and life goes on. It's just that I thought I was over it, and then one night I had a dream about you and it didn't feel right. Everyone's efforts need to be witnessed, people live for these trivial things. If only for pleasure and companionship, then the TAKI T50 is enough. There is no other meaning of living, also nothing more than relatives and friends to identify with social responsibility. Some people began to smoke because of a novel, each lit a root of smoke is Ding Yuan ying, I smoke TAKI T50 is to solve the worry is happy, is to catch up with better themselves.