The best disposable vapes recommendation
Jun 29, 2022 by veexshop
Among cigarette smoker who want to quit, the disposable vape is getting more and more popular, the best disposable vape almost the same draw and sensation like cigarette. And they change to so many different awesome flavors. Further more, they are so convenient to carry on than a pack of cigarette. Most of they are very lightweight and small.
With the purpose to help you make it easy to choose the best disposable vape, we've put together this list of the best disposable e-cigs of 2022. We've chosen these disposable vapes based on their build quality, flavor, throat hit, battery life and overall performance.
TAKI T20 has won the favor of many female users with its excellent color and appearance, it uses two-color injection molding technology to create extremely bright colors, and has a very cute transparent case, when you take it out of the bag, It is like an accessory that shows your temperament and personality. Its touch is very comfortable, and the streamlined and symmetrical design makes people love it.
Of course, the above is just one of its advantages, his taste is also very comfortable, very fresh, neither too strong nor too bland. It is now available in eight flavors: Strawberry Cheese Tart, Grape Ice Cream, Mango Ice, Strawberry Frozen, Mixed Berries, Lemonade, Fresh Mint, and Apple Cider Vinegar. Inside, there is a built-in 6ml of e-cigarette liquid, which can provide 2,000 puffs, which is first-class for a disposable product. The battery capacity is 380mAh, and it has a type-c charging port for convenient charging anytime, anywhere. TAKI disposables have an industry-leading defect rate because each disposable is factory tested before being boxed and shipped. You can try to choose TAKI T20, I think you will not be disappointed.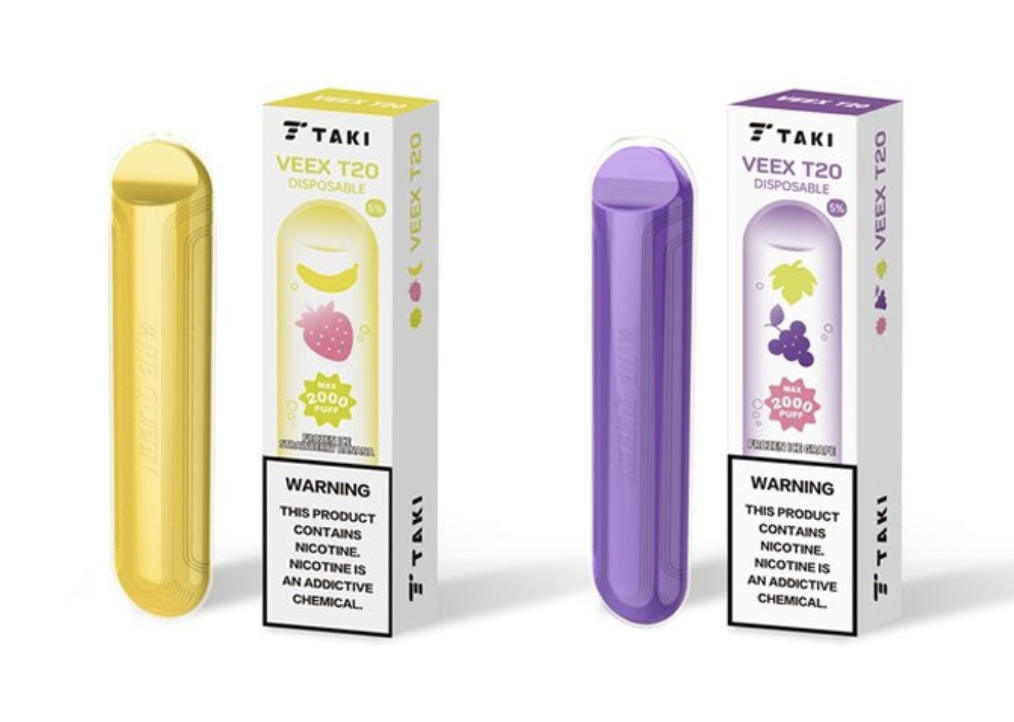 TAKI T31
Compared with the beautiful appearance of TAKI T20, TAKI T31 is better in experience. It uses a mesh core, and the smoke is bigger and thicker. The taste is better and richer, and the hit on the throat is stronger. So I like that a lot.
It has a square and long strip design, which is close to the skin in the hand. Of course, we will also include a cute sticker in the package, you can DIY it at will to make it more personalized.
It comes pre-filled with 10ml of liquid, and a 500ml battery, which can meet the needs of a day. The TAKI T31 is capable of delivering 5000 puffs, which is amazing. T50 is equipped with a type-C charging port, you can easily charge it.
It now has Strawberry Watermelon Bubble Gum, Pink Lemonade, Lemon Ice, Antarctic Ice, White Peach Oolong, Cold Soaked Longjing, Tieguanyin, Spring Guava, Mang Mang Dew, Peach Oolong, Sea Salt Grapefruit, Kibai Fan 12 kinds taste for you to choose. Each is worth trying. in. My favorites are cold-brewed Longjing and Tieguanyin, because I am also a tea lover.
VEEX MAGIC L
The biggest feature of Veex magic L is that it is small and lightweight. It uses atomized cotton core bombs, and the taste is very stimulating. Although its capacity is relatively small, it can only have 800 puffs. But the price is very cheap. Currently, there are six flavors of blueberry raspberry, iced watermelon, banana milk, refreshing guava, grapefruit, and champion Dahongpao. If you like small and convenient disposable electronic cigarettes and don't like frequent charging, then you can prepare more magic L, when you travel or go out, you can put it in your bag, in the car, or in your pocket. It hardly takes up much space.
4, VEEX Magic S
Magic S and Magic L are the same compact and convenient size. Compared with the L, the capacity of the S is only 2.5 ml, and it provides 450 puffs. It provides 11 flavors, each one of which is more refreshing. What I like most about it, L has a stronger, more exciting flavor. The taste of S is more soft and comfortable, and it will not feel greasy after multiple puffs, and the fragrance will continue to stay in the mouth. You should also try this series, not to be missed.