VEEX TAKI T502vs VAPORLAX MESH, which Disposable Vape is better?
Sep 19, 2022 by veexshop
With the increase in global health awareness in recent years, and the implementation of regulations related to the e-cigarette industry in many countries around the world, the e-cigarette market has gradually entered a more stable and regulated development phase from the initial wild growth period. Now, the interchangeable e-cigarette market has entered a mature stage of development, and the equally fast-growing disposable e-cigarette market is about to undergo a radical change. More and more vapers are gradually realizing that disposable vapes can perfectly provide them with all they need to enjoy their vaping session as well. They are cost-effective and convenient, but at the same time also endowed with impressive flavor profiles in distinctive tastes and aromas. Too much detail about its benefits is unnecessary, we'd like to compare two disposable vapes, VEEX TAKI T502 and VaporLax MESH from VaporLax. The reason why we select these two disposables for comparison and review is that although they are affiliated to different e-cigarette brands, there are actually many similarities between them. So, for these two seemingly identical products, how to choose has become a problem for vapers. In order to break the dilemma, we decided to compare and evaluate the two disposables form the following aspects, including appearance, available flavors, puff counts, battery capacity, charging ability, portability, product quality, manufacturer and price to figure out, which is the better one, and so as to provide consumers with reasonable purchase suggestions.
External appearance
There is no doubt that the very first thing to look at when we get an item for the first time is the exterior. Actually, although TAKI T50 disposable puff bar vape device, TAKI T502 disposable vape and TAKI T28 disposable vape are released in succession, their external appearances are quite different. As we all know, a dedicate, stylish, fashionable item can quickly catch our eyes and lead to a potential purchase order. So, how about their performances in first step in attracting us?
Visually,TAKI T502 disposable vape from VEEX and VaporLax MESH are same pen shape designed. The most interesting thing we look at two products is that TAKI T502 disposable vape2 designs a unique eye-catching character image on its wrapper. It comes in a make-up oriental style girl. Moreover, the cotton candy disposable vape from VEEX is wholly packaged with Eco-friendly and heat-resistant materials, which means it can be much safer during the using time. Compared with TAKI T502 disposable vape, VaporLax MESH has a comparatively simple external design. It is wholly bright color. TAKI T502 disposable vape is round drip tip and the other is flat drip tip. Whether round or flat, both types of mouthpieces connected directly to your mouth are very comfortable. By the way, TAKI T502 disposable vape is made in ABS and PCTG, which are certified as Eco-friendly and heat-resistant materials That means it can be quite safe during the using time. Either TAKI T502 disposable vape or VaporLax MESH is equipped with ultra-smooth adjustable airflow setting for tuning switch for DTL and MTL dual vaping modes, which can be found at the bottom of the devices. This innovative design provides satisfaction and efficiency not only the for vapers who crave for high power low resistance, but also for small smoke enthusiasts and who aim to smoking reduction as well as cessation. What's more, TAKI T502 disposable vape is designed with a dust cover that looks like a Coca-Cola bottle. That is a really thoughtful design.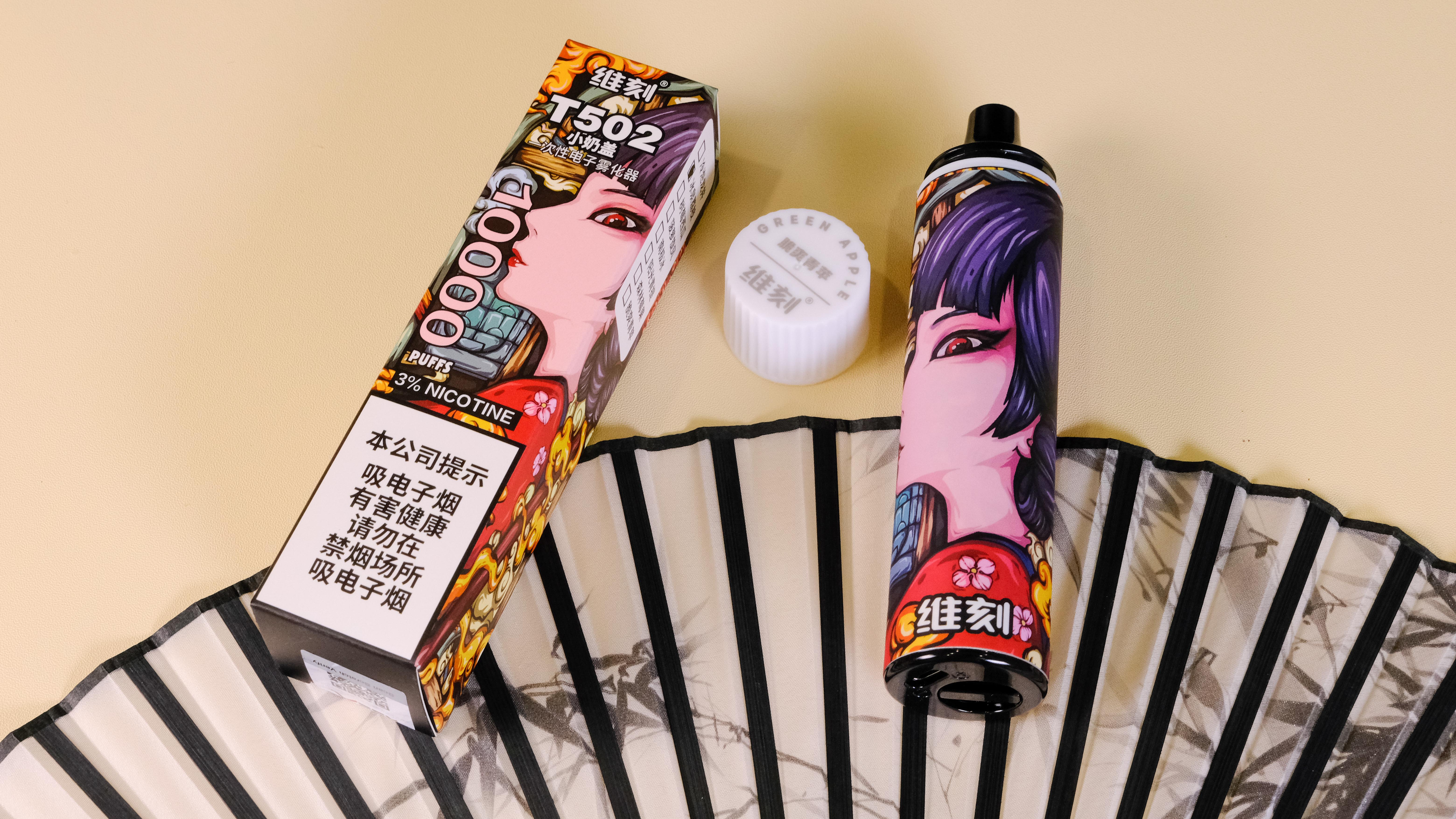 Available flavors and puff counts
TAKI T502 disposable vape: 12 flavors 10mL 10000puffs
VaporLax: 15 flavors 6.5mL 3000puffs
T502-users can stunningly puff over 10000 times with 15ml e-liquid capacity, and VaporLax, which is inferior to T502, comes in 3000 puff counts with 6.5mL vape juice. By the way, both disposables are available in 5% nicotine level.
Battery capacity and charging ability
The reason why battery capacity must be included in the discussion is that a good vape equipped with a good quality battery can quickly recharge and give you as long as possible vape sessions before it needs to be recharged or replaced. Given that we talk about disposable vapes today, the battery capacity and their recharging ability are significant. Fortunately, TAKI T502 disposable vape is definitely supportive of recharging and the company VEEX is so considerate to put the USB charging cable into the set. Although we can't figure out whether VaporLax MESH is able to be recharged or not, it is integrated with a 1000mAh battery. So, the lifecycle of VaporLax is considerable. Large capacity batteries lay the groundwork for these two disposables with surprising puff counts.
Product quality and portability
In terms of quality, we would like to make the conclusion from their heating mediums and packaging materials both disposables use.
Well, both of TAKI T502 disposable vape and VaporLax MESH are equipped with MESH cotton heating coil, which brings a smoother and larger atomization. Vapers can immerse themselves in an unparalleled combination of flavors in accordance with their personal preferences and have the most enjoyable time while puffing. And as for portability, we can pay attention to the specifications:
TAKI T502 disposable vape: 31*31*129mm
As we can see, T502 is compact and therefore it is convenient to have it on the go.
Manufacturer
Their offices are both located in Shenzhen, China and they are one of the most famous manufacturers in the vape industry in China. VaporLax was founded in 2010 with a mission to change the lives of adult smokers and their families for the better devices in mind. And VEEX was established in 2014 with the technology-driven "VEEX Technology, Geek Creation" and orientation to products innovation, to provide geeky products and services for global atomizer consumers. No wonder that either VEEX or Vaporlax is capable of providing their customers vape products of high quality.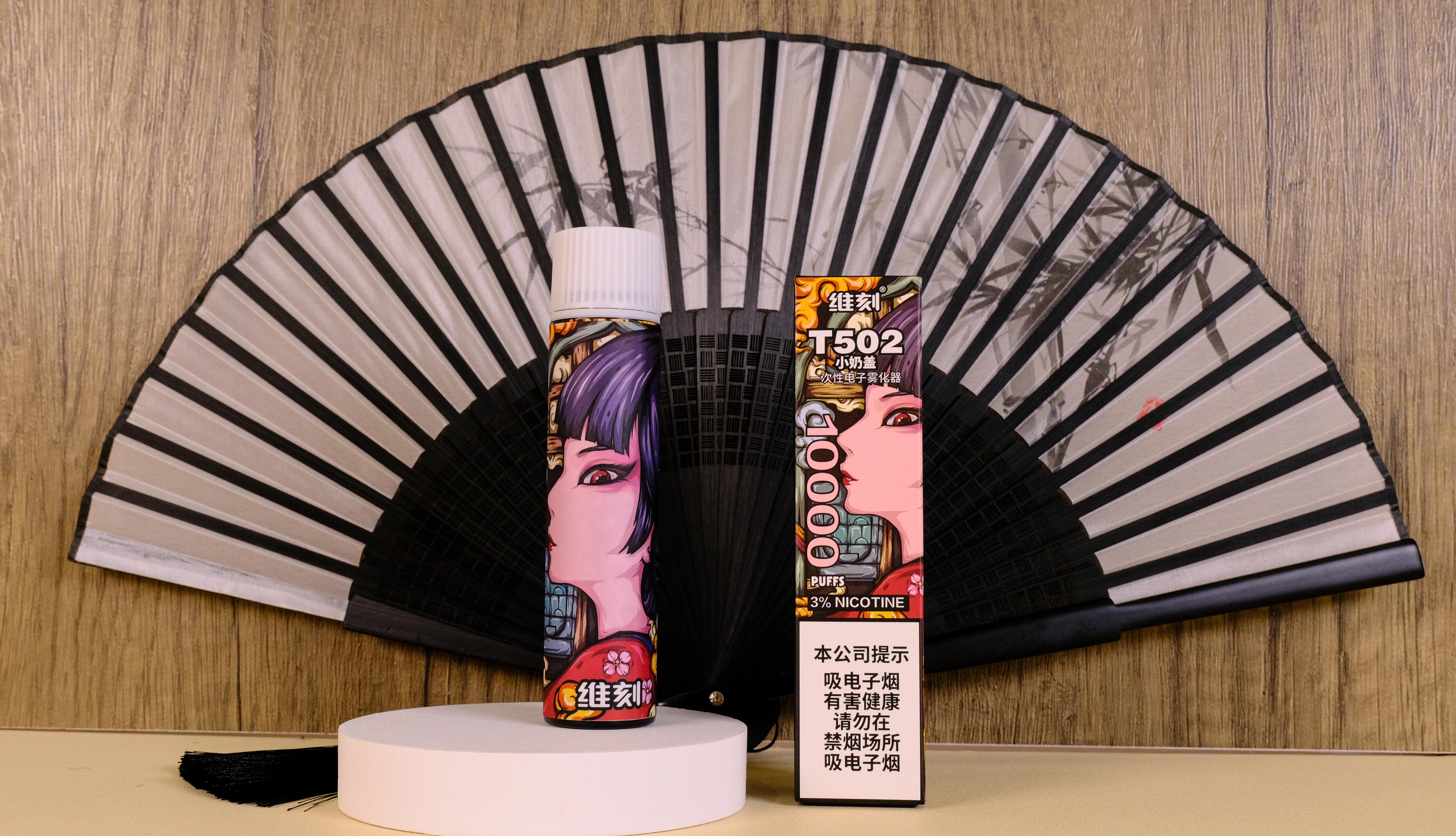 Verdict
Overall, both disposable vapes are from companies with good reputations and impressed us with their excellent performance. Through a series of comparisons, if you are a veteran smoker and want to try more flavors of disposable vapes, maybe VaporLax MESH is a better choice. If you prefer a disposable e-cigarette with a large number of puff counts, then we highly recommend the TAKI T502 disposable vape, which can be vaped over 10,000 times and will be your best companion for long trips.