VEEX VS MOTI,which is better?
Aug 03, 2022 by veexshop
We compare VEEX and MOTI in several aspects including the company, flavors, pods, battery life, flavors, pods, vaping puffs, customer reviews, charging,customer reviews to find out which one is better. Through practical experience and practical operation and careful study, we came to the conclusion that VEEX and MOTI are different, but both are popular with consumers. In the following article, we will compare the companies' products VEEX and MOTI, which includes pods.
The company
VEEX TECH is a global brand of consumer electronic nebulizers that has been recognized in New Zealand since 2019. The headquarters is located in Shenzhen, China, with operations centers in Auckland, New Zealand and London, UK to accelerate global promotion. In China, brand influence ranks top 3 in the industry; In the world, there are more than 1000 brand franchise stores, products are exported to more than 40 countries.VEEX has received many awards since its inception.Veex has an independent research and development base of 23,000 square meters, with consistent control from design to production. It has 100,000-class clean and dust-free workshops, and its products meet the production standards of food enterprises. MOTI is a subsidiary brand of another company, and its products are produced by another company. In comparison, VEEX has more autonomy in the manufacturing process and better supervision over its products, striving to make every product suitable for consumers and make it healthier and safer for consumers to use.
Flavors – VEEX vs MOTI
VEEX:V1(44) / V1PLUS(27) / TAKI T1(6) / V4(23) / V5(24) / TAKI T5(5) / TAKI R5(6) / S12(20)
MOTI:MOTI C(14) / MOTI S LITE(18) / MEGA PRO(12)
By comparing the tastes of the two companies' series products, we can see that VEEX has a wider range of products, and each product has more flavors, which can effectively meet the needs of consumers. Whether it's fruit or some other flavors, VEEX is rich and there is always a taste for the customer.
Pods – MOTI vs VEEX
MOTI: 1 pack (3 pods),MOTI C 2mL / MOTI S LITE 1.8mL / MEGA PRO 3mL,5% / 3% nicotine
VEEX: 1 pack (3 pods), v1 2mL / V1PLUS 2.2 / S12 3.7, 5%/3% /2%nicotine
By comparison, VEEX PODS generally contain more liquid than MOTI, which means VEEX is cheaper to buy and can be used more often. If you're a regular e-cigarette user, I'm sure you'll prefer VEEX.
Puffs – MOTI vs VEEX
MOTI: 600 puffs
VEEX: 640 puffs
It can be concluded that the use time of VEEX is significantly longer than that of MOTI by selecting 2 ml POD of both products for comparison. In addition, almost all other series of products have the same result. It can be seen that VEEX has a relatively high cost performance and is worth buying, which can well meet the needs of consumers who use it frequently.
Battery life – MOTI vs VEEX
MOTI: 400mAh
VEEX: 380 mAh
Because the design of the overall equipment of VEEX takes into account the portability of consumers, the production is small. The battery is correspondingly smaller. But 380MAH is enough to meet the needs of common users.
Product quality – MOTI vs VEEX
MOTI: MOTI is said to have serious e-liquids leakage in some pods.
VEEX: VEEX is said to have some device not working problems as well.
Both products are innovative brand new products. Therefore, some defects in the new products are inevitable. This round the 2 brands tie.
Charging convenience – MOTI vs VEEX
MOTI:
Use an ordinary Type C cable to charge. This cable is able to to be found anywhere. 10-15 minutes for a full charge, Charging time is relatively short.
Use an ordinary Type C cable to charge. This cable is able to to be found anywhere. 10-15 minutes for a full charge, charging time is relatively short.
Type C cable is widely used in the market at present, and mobile phones can also be used with e-cigarettes, so the two companies try to consider the convenience of customers in production.
PV color:
VEEX: Veex has many colors, VEEX V1 vape devices has 13 colors to choose from, I believe there is always one you like.veex has many colors to choose from, black sky dark atmosphere, elegant pearl white moist, high your elegant champagne, a space gray low-key costly, citric yellow, pure and fresh and pure green powder, fresh and lovely, many color many styles each have each charm Smoke bomb taste, can provide customers to choose.
MOTI: MOTI's colors are relatively monotonous, and there are few colors available for customers to choose from.
In this round of competition, veex clearly beat MOTI. Veex offers a wide range of colors to choose from.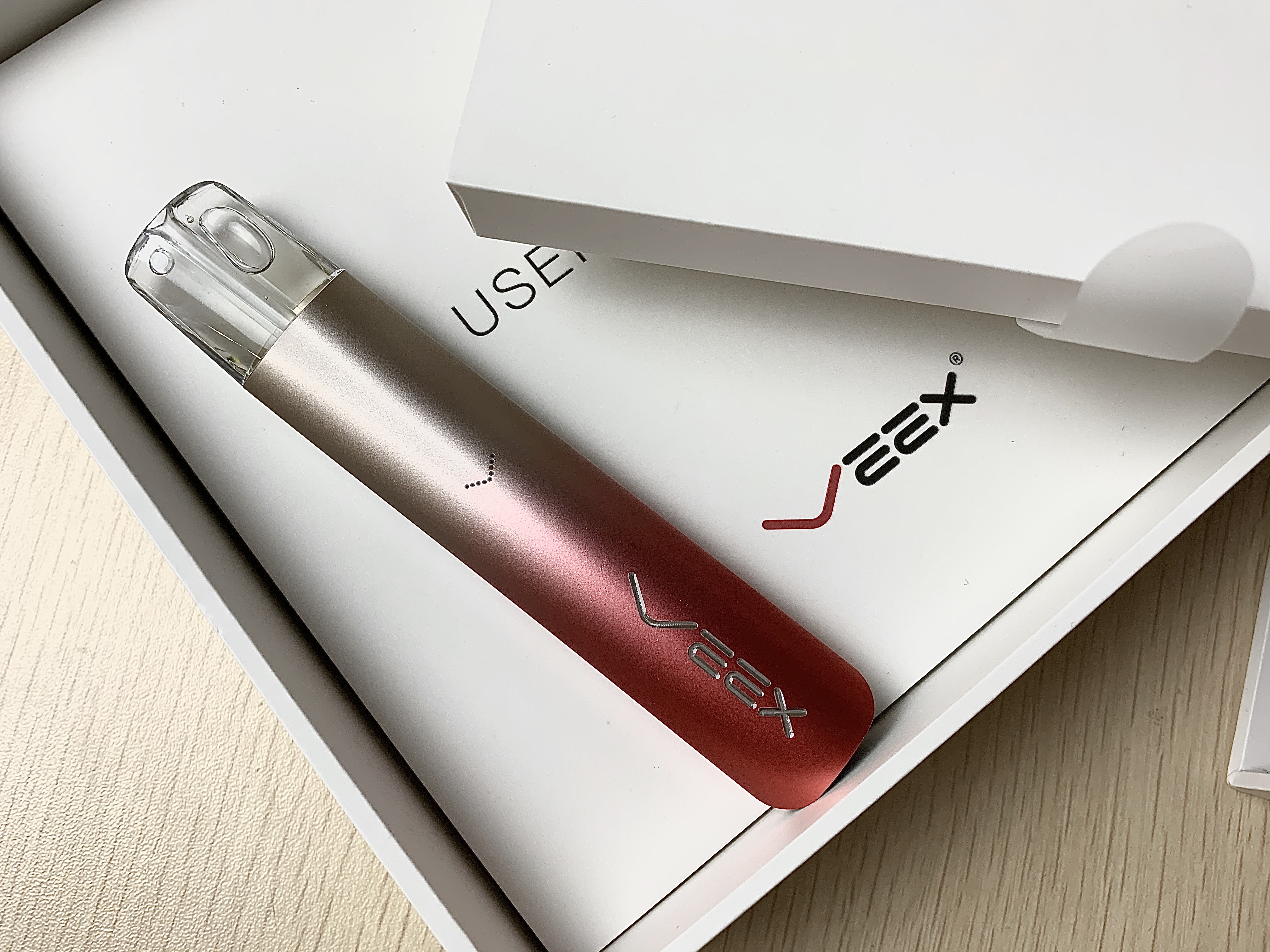 Customer reviews:
MOTI is less realistic on tobacco, which feels soft but doesn't have a tobacco-like taste, presumably to make it easier for new users to accept. And it doesn't play well in mint, fruit flavors and so on, nor does it have a high degree of authenticity. VEEX, a product that has sold over 100 million copies, has a strong taste and explosive power during use. Especially cotton core atomizing bomb, the use of Chinese cotton has a high quality. During the use of cotton soft and dense, taste reduction degree is relatively high, oil absorption and oil conductivity is also better.According to some users, VEEX products do not cause a dry throat, even if they produce a large amount of smoke. And in the use of almost no oil leakage and frying phenomenon. It's worth noting that some users don't like PODS that contain nicotine, so they can choose PODS that contain zero nicotine and have a very restorable taste. Can let you really feel fruit and other flavors, green and healthy and addictive.
Both MOTI and VEEX are new products. In this article, we can see that each has its own advantages and disadvantages. But in comparison, VEEX has more advantages and is more worthy of consumers' choice. Trust me, this product will not disappoint you.Whether in taste or color, as a product with over 100 million sales in the market has enough status. Future products will be more perfect, better meet the needs of consumers. VEEX, you deserve it.