What is the difference between VEEX and WUUZ
Aug 09, 2022 by veexshop
As two products from one company,We compare VEEX and WUUZ in several aspects including the flavors, pods, battery life,customer reviews to find out which one is better. Through practical experience and practical operation and careful study, we came to the conclusion that VEEX and WUUZ are different, but both are popular with consumers.In the following article, we will compare the companies' products VEEX and WUUZ, which includes pods.
Flavors –WUUZ vs VEEX
VEEX :
Veex v1 has 29 flavors including some fruit flavors such as lemon, grape, strawberry, watermelon, and if you prefer tea flavors, you can also choose dahongpao, Longjing flavor PODS.It's worth mentioning that there are latte, Coke, and so on, and these flavors are worth trying out. There's always one of 29 choice flavors for you. If you don't like nicotine, the company also offers five different flavors to choose from, including watermelon and grape.The company took into account the needs of some users after the launch of V1 plus flavor is also very many, can effectively meet the needs of users. Increase the liquid content without increasing the price.
WUUZ :The VEEX V series does have a lot of products, V4 also has a lot of flavors for customers to choose from. In contrast, WUUZ has less flavor. WUUZ 12 comes in 20 different flavors, which is small but still up to 20. In the use of the process can feel the rich sense of layers, and full reduction degree is relatively high.
Battery life –WUUZ vs VEEX
VEEX V1: 380 mAh
VEEX V4:380 mAh
VEEX V4lite:380 mAh
WUUZ S1: 380 mAh
WUUZ S12:800 mAh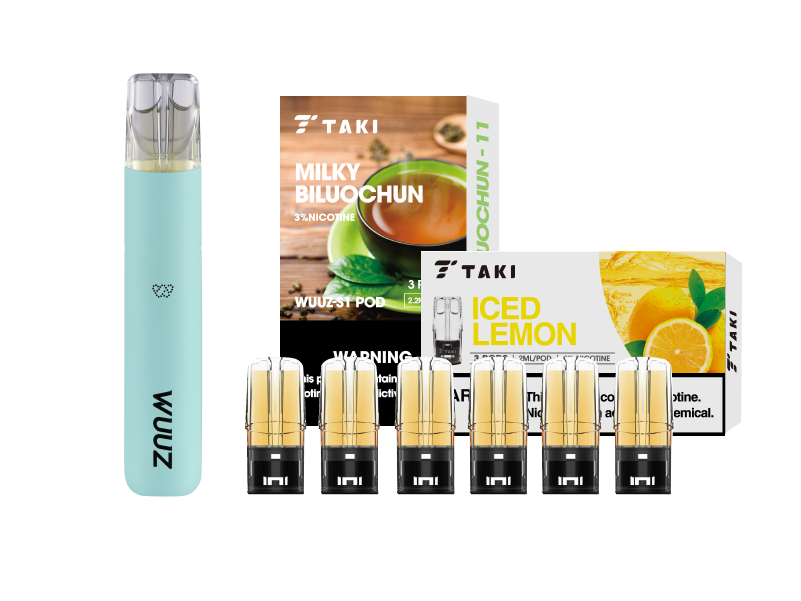 As the two products of the same company, the battery capacity is the same, the charging time is 45 minutes, super long life, lasting power storage, can effectively meet the daily use, do not worry about the problem of power.Every customer's needs are different, some people need extra long battery life, some consider short charging time, save time. In the corresponding problem on the company produced related products to meet the demand. VEEX V4 takes only 20 minutes to charge, which is even better for saving time. The 800MAH battery capacity of the S12 is worth choosing. Each product is to meet the needs of consumers.
PV –WUUZ vs VEEX
VEEX :
The PV color of VEEX is very large. VEEX V1 has 13 colors. There are lots of colorful colors, and if you prefer colorful colors, then veex has one for you.
WUUZ:
on the other hand, has fewer colors and is more monotonous. If you like solid colors, WUUZ's silver and black are a good choice for you. With traditional patterns, it looks sophisticated.Notably, WUUZ S1 is made of brass, using a unique etching process to carve the body. So it looks very delicate and delicate. The whole fuselage adopts the traditional culture group, such as cranes and koi carp, especially full of personality. When customers in the process of use, even three seconds, it will automatically light up cool horse lights, WUUZ is a high-power design, for customers like thick smoke, it will be a good choice.If you are a smoke player, then WUUZ S12 will be your first choice. As an upgraded product, WUUZ S12 has 16-18W dual power and has two modes of oral inhalation and lung inhalation. Customers can change the mode to adjust the smoke volume at will. This product adopts circular mesh heating silk and uses 5 layers of cotton core. When using it, the heating material of smoke liquid is fuller and more delicate. The whole body adopts IML patch technology and MESH core structure, oil core separation shell, restore the pure taste.
WUUZ:1 pack (2 pods), 3.7mL,2%nicotine
VEEX: 1 pack (3 pods), v1 2mL/V1PLUS 2.2, 5%/3% /2%nicotine
WUUZ only comes with two PODS per box, but the 3.7ml extra-large oil mug can hold more oil. With S12 smoke rod in the use of stronger explosive force, better effect. The MESH core structure can restore the pure taste to the greatest extent, and the core separation technology is adopted to make the taste better and fresher. If you don't like products containing nicotine, then special 2% nicotine flavor, smooth mouth not greasy.It is worth mentioning that POD of WUUZ S12 has no smoke liquid, so customers can make a variety of flavors by DIY according to their preferences. This product has strong compatibility, and customers can rest assured to use it.Both VEEX series products and WUUZ series products are made of transparent pacifier grade PCTG materials, safe and visible, excellent quality. However, VEEX series has more flavors, and customers can choose a wider range of flavors. VEEX uses NCODE ceramic technology to make the throat not dry even if the smoke is large, and it will not leak and fry oil. And is the use of intelligent constant power technology, with style through the airway, delicate and strong. Original NCODE atomizing core technology to pursue the ultimate taste, very favored by customers.
VEEX has a good taste and strong explosive force in the process of use. It uses food-grade safety materials, which are safe and visible, and excellent quality. Moreover, POD has many flavors, which is especially worth trying some tea flavored PODS. In the process of use oil absorption and e-liquid conduction is also better, rarely appear frying e-liquid and e-liquid leakage. And in the process of use, throat is not dry, suitable for long-term use. PLUS series of POD volume without price and affordable. For health reasons, the zero-nicotine POD is green, healthy and addictive. When used, the taste is very restored.For fans of WUUZ, the patterns of traditional culture are very individual and delicate. Super long life, durable power storage design can meet the needs of customers with high frequency. DIY independent collocation taste more innovation, quite popular in the market.
Whether it's VEEX or WUUZ they have something in common, but they also have a lot of differences. Product segmentation is aimed at different customer needs, and the two products are two better e-cigarettes on the market, which are worth choosing and trying.