What is the difference between WUUZ S1 and WUUZ S12?
Sep 07, 2022 by veexshop
The e-cigarette industry has gained momentum and grown rapidly in recent years, and it doesn't look like it's going to slow down anytime soon. The majority of e-cigarette products on the global market today come from China, and the vast majority of Chinese vape brands are rooted in the southern coastal cosmopolitan city of Shenzhen, home to more than 95% of the world's e-cigarette companies and manufactories, and where the two products we'll discuss today were born. Their parent compan.VEEX, has brought us many delightful e-cigarette products. VEEX was established in 2014. The brand is dedicated to providing vape kits, pods, disposables and other accessories to vape consumers seeking a variety of vaping experiences and less harmful ways to vape through its technology-driven philosophy of "VEEX Technology, Geek Creation" and continuous product innovation, with the ambition to become the leader in the e-cigarette industry changing modern lifestyles and consumption patterns. XIYO, TAKI and WUUZ are part of VEEX Technology (VEEXTECH), each sub-brand has introduced a unique line of vape products that absorb the benefits of a certain type of vape and meet the different vape needs of consumers of all levels. With all of the various types of vapes of VEEXTECH, it can be tough to figure out which is suitable for you. In this post, we will select two stunning products from WUUZ, more specifically, three products, namely WUUZ S1 Chinoiserie, S1 Starfall wars and S12 Storm. The reason why we chose the three products for comparison and review is that three of them have quite eye-catching exterior designs. Since all of them have the ability to catch our eyes at the first time, then how can vapers distinguish them and which one is their "ride or die"?
Read on, we will help you to find your Mr. Right. In order to break the dilemma, we decided to compare and evaluate the two disposables form the following aspects, including appearance, available flavors, battery capacity, charging ability, product quality and price to figure out, which is the better one, and so as to provide consumers with reasonable purchase suggestions.
1. Appearance
When we want to compare different kinds of products, the first thing should not be skipped is their appearance. Although packaging design is not the most important factor in determining whether a vape is worth buying or not, it is a commodity after all, and a dedicated vape is the first step in attracting customers, so it is also very important. When it comes to appearance, the device is the most important indicator of a company's aesthetic ability, which requires a multidimensional interaction of materials, craftsmanship and color design.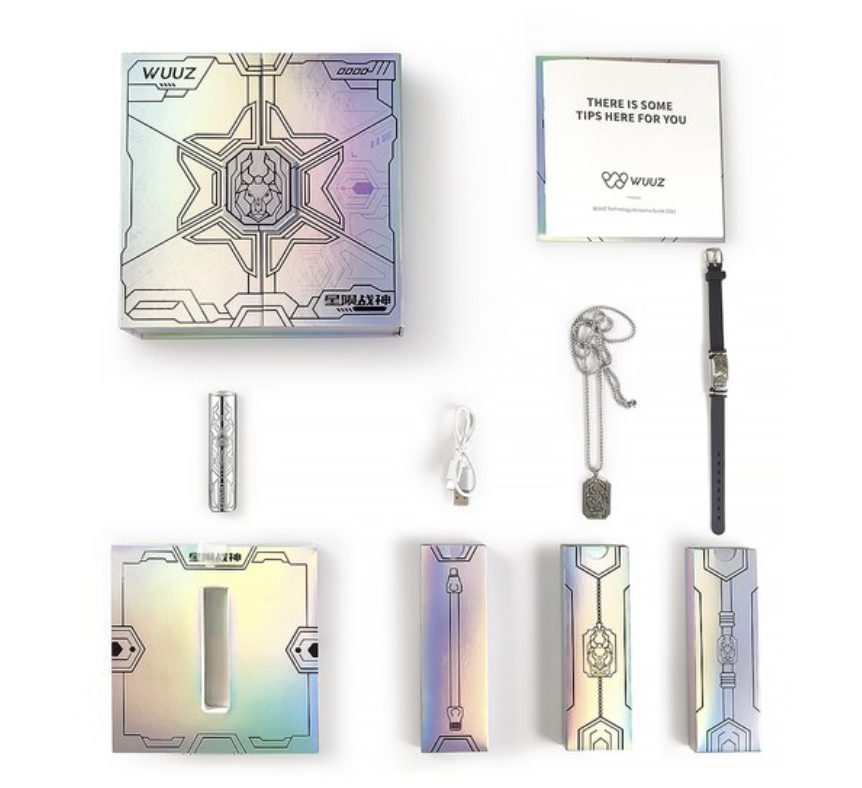 S1 Chinoiserie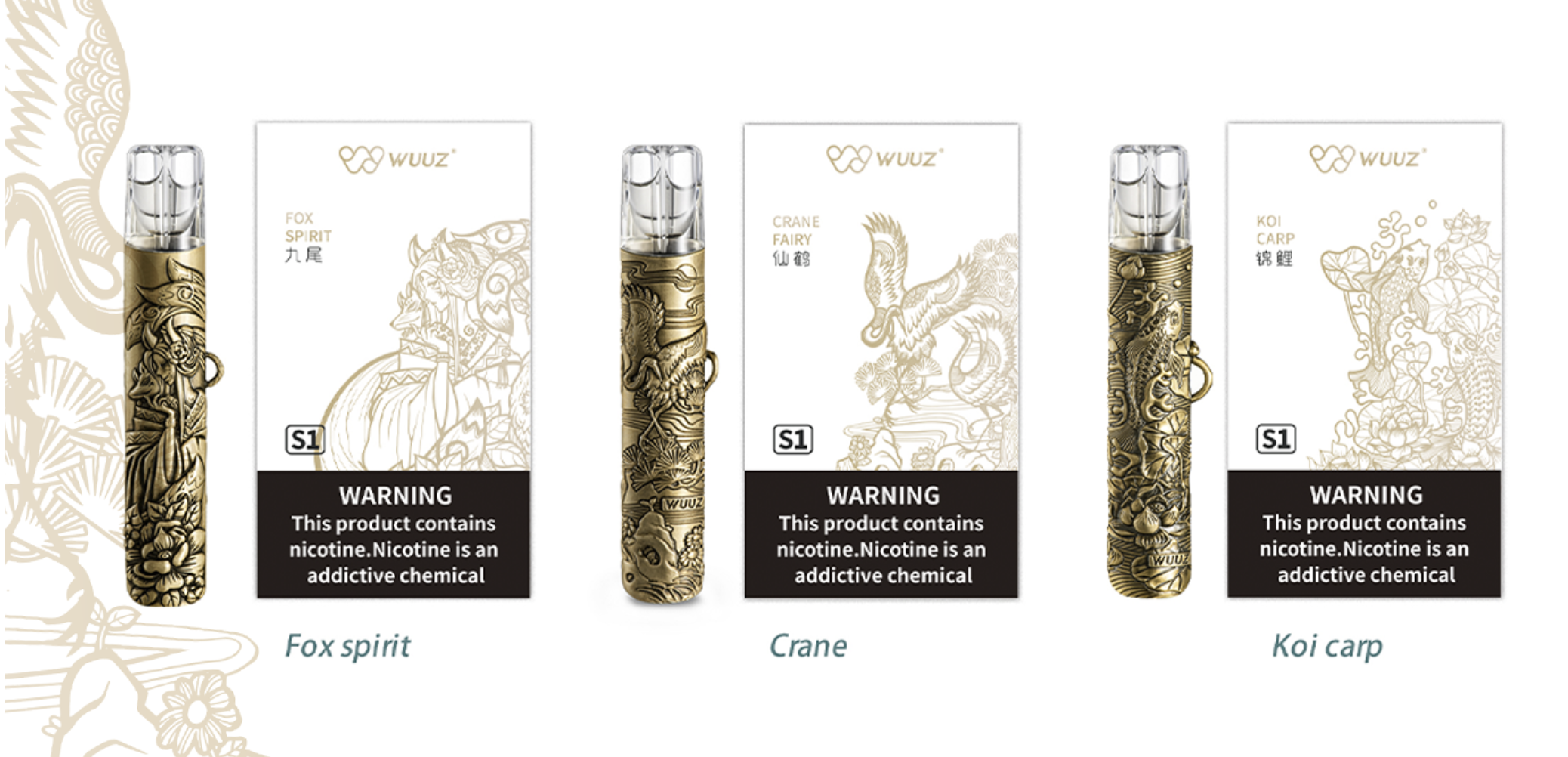 As we have mentioned before, three products are all strongly impressive at the external appearance. Three of them are pen shaped. S12 Storm totally comes in 4 different external designs, respectively called Lucifer, Gabriel, Bear Warrior and Mad Ox. While S1 comes in 5 colors: simple gray and black, Fox spirit, Crane and Koi carp. Compared to S1, S12 is wholly made in zinc alloy with IML process. In the upper front of S12 Storm device we can see a diamond-shaped indicator lamp, which we will make a further exposition of its function. By the contrast, the S1 devices have two different styles of appearance, which reflect different design concepts. The S1 Chinoiserie carved device is made from brass. The exterior of the e-cigarette device is carved according to the animal image design called Fox spirit, Crane and Koi carp in traditional Chinese mythology. We must to say, that is extremely outstanding. The another one from the same series called Starfall wars is as well as impressive designed. It is carved in black and grey. Unlike the device of brass material protruding engraving, Starfall wars is sunken carved. In comparison, the brass device looks more high profile, while the Starfall wars is more understated. The most interesting thing is that three kinds of products from S1 are noctilucent. That is so exciting to hold an exquisite device shining in the dark! And what's more, the brass carved device as well as the Starfall wars device are additionally equipped with bracelet and chain each pack as bonus. At the meanwhile, two e-liquid prefilled pods are added in each pack of the Macaron series.
2.Battery and charging
WUUZ S12: 800mAh
WUUZ S1: 380mAh
A good quality battery that can quickly recharges and gives vapers as long as possible vape sessions before it needs to be recharged is a necessary for a good vape. As all products we compare today are from the same brand VEEX, the quality of the accessories they use is guaranteed. Either Chinoiserie or Starfall Wars from S1 Series has the same large battery capacity in 380mAh. And WUUZ S12 Storm is integrated with a larger battery in 800mAh. Another difference between them is WUUZ S12 takes just around 40 minutes for charging, while S1devices need an hour.
3.Manufacturing (Product quality)
The heating unit inside the devices play a very significant role in the e-cigarette vaporization process. It is reassuring to know that because VEEX is a brand that independently develops the core technology of all parts of the e-cigarette, their NCODE chip technology is used in all products of S1 Series. This ensures that the atomizer heating performance of both products is very efficient and high quality. And safety is also guaranteed! It is worth mentioning that S1 is designed with different resistance for different flavors, which promises you the highly reductive richness of the taste. On the other hand, WUUZ S12 is equipped with MESH coil, which brings a smoother and larger atomization. What's more, S12 is designed with different power and different air inlets setting for diy operation. And the indicator lamp we have mentioned before is used for it: bright blue for MTL mode in 16W and bright purple for DTL mode in 18W. Vapers have the access to double playability. Vapers can immerse themselves in an unparalleled combination of flavors in accordance with their personal preferences and have the most enjoyable time while puffing. By the way, all of three
4. Price
WUUZ S12: $49.99
WUUZ S1 Chinoiserie: $55.99
WUUZ S1 Starfall Wars: $79.20
Well, we finally come to the price. In fact, the price gap among these three different products is distinctly quite large. As you can see, the average price of the S1's three different products is nearly 20 US dollars more expensive than the S12 device, mainly because of the carving devices of the two Chinoiseries. Although S12 is compatible with pod systems in 3.7mL e-liquid capacity, is costs only $50. This price difference is actually very easy to understand. After all, compared to the smooth shell, the engraving will consume more resources in the production process.
5. Verdict
After such a detailed understanding of the specific parameters of the two products, we would like to give different vapers rational purchase recommendations. As the first generation of classic products released by the VEEXTECH, its appearance, craftsmanship and price are in line with the consumer needs of most vapers. S1's products are impressive in appearance, with a unique design that is in the spotlight, and such painstaking work is also reflected in their prices. And we firlmly believe that 3.7mL liquid capacity will be a great satisfactory for those, who have huge demand on vapes in daily life. While the three from WUUZ stand out in style, and as a gift for people we firmly believe they will bring you a pleasant surprise.