Which is the better vape pod, RELX Pod Pro vs VEEX V5
Sep 02, 2022 by veexshop
As we all know, vape pod is the core of a vape. Nowadays, many brands are constantly launching their own new vape pods to give consumers a better experience and meet the changes of the vape market. As a brand with strong product innovation ability, VEEX and RELX also launched their own new generation of vape pod—VEEX V5 and RELX Pod Pro. In this article, we will compare these two products in several aspects, including brand concept, price, flavor, and core technology. Through analysis, we draw a conclusion—VEEX V5 is as good as RELX Pod Pro.
Brand concept RELX vs VEEX
RELX: Founded in January 2018. At present, the brand's main business includes the development, design, manufacturing and sales of RELX's vape products. With core technologies and capabilities covering the entire industry chain, RELX is committed to providing users with both high quality and safety products.
VEEX: Founded in 2014, VEEX Technology is an atomizer global consumer brand company, with "VEEX Technology, Geek Creation" as the technology-driven, product innovation-oriented, to provide geeky products and services for global atomizer consumers.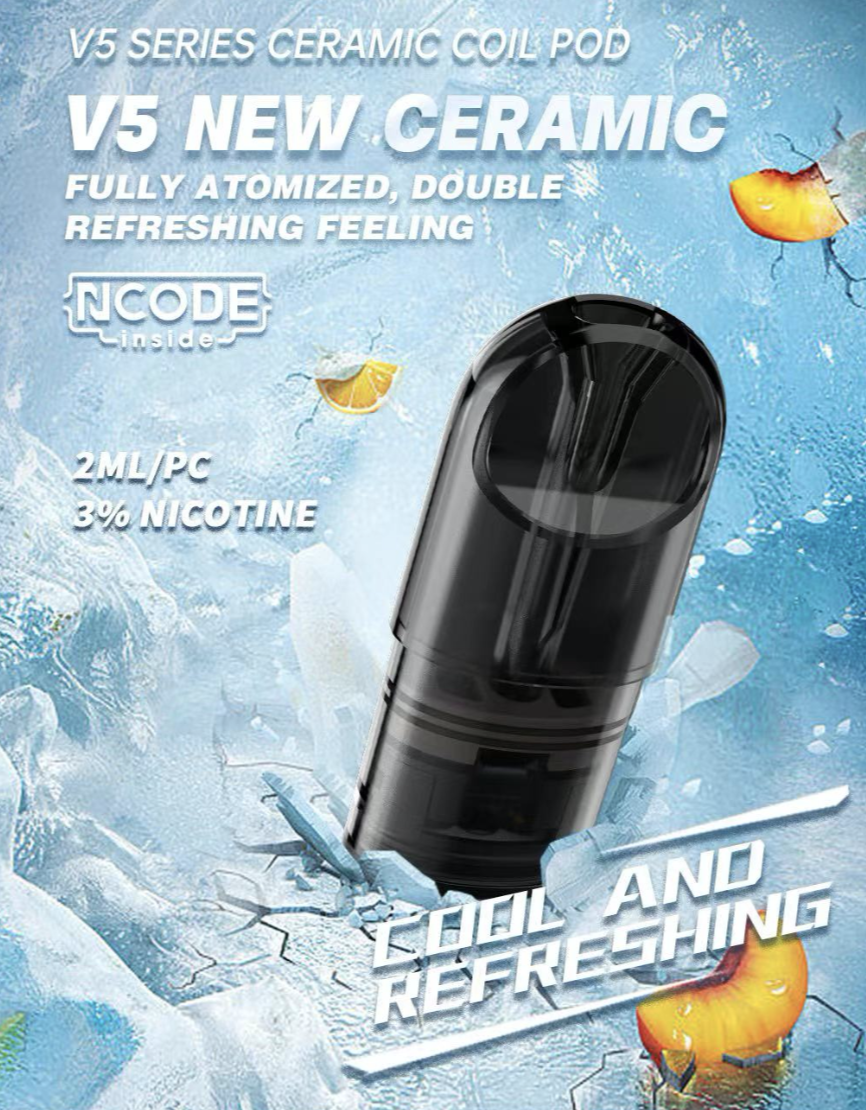 Price RELX Pod Pro vs VEEX V5
RELX Pod Pro: 0%/3% nicotine: $5.9/pod
1.8%/5% nicotine: $11.4/2 pods
VEEX V5: Ceramic coil: $17.99($18.99)/3 pods
Cotton coil: $14.99($18.99)/3 pods
We can realize that the prices of VEEX V5 and RELX Pod Pro are close. Besides, the prices of these two vape pods are low in vape industry, which make products more accessible to consumers.
Flavor RELX Pod Pro vs VEEX V5
RELX Pod Pro: 0%/1.8%/3%/5% nicotine,13 flavors(Fresh Red/Menthol Xtra/ Menthol Plus/Ludou Ice/Tangy Purple/Garden's Heart/Dark Sparkle/Sunny Sparkle/Raspy Ruby/Orchard Rounds/Classic Tobacco/Golden Slice/Hawaiian Sunshine)
VEEX V5:
VEEX V5 ceramic coil pod:3%nicotine, 11 flavors(Chinese Tea/Iced Antarctic/Iced Lemon/Popsicle/Biluochun Tea/Iced Watermelon/Green Grape/Iced Peach/Iced Strawberry/Iced Lychee/Iced Cola)
VEEX V5 cotton coil pod:3%nicotine, 13 flavors(Chinese Tea/Iced Grape/Iced Lemon/Pineapple Juice/Orange Soda/Iced Cola/Iced Blueberry/Iced Kiwi/Lemongrass Peach/Oolong Peach/Iced Strawberry/Oriental Beauty Tea/Coconut)
It is obvious that these two vape pods have many differences in flavors. First of all, RELX Pod Pro's nicotine content has four options of 0%, 1.8%, 3%, 5%, while VEEX V5 only have the option of 3% nicotine. It is important to know that the different nicotine content will greatly affect the taste of consumers. The higher the nicotine content, the stronger the stimulation. Therefore, from this point of view, RELX Pod Pro can meet the needs of different groups.
Besides, it's obvious that VEEX V5 vape pods contain much more flavors than RELX Pod Pro. As we all know, the flavor of vape pods is the key point to attract consumers. Vapers enjoy different flavors and they are always changing the flavors of vape pods. At this point VEEX V5 vape pods are more attractive.
Finally, VEEX V5 vape pods have two options of cotton atomizer and ceramic atomizer, while RELX Pod Pro is equipped with a ceramic atomizer.
Ceramic can be heated at high temperatures and is also porous. In the flavor pod, the e-liquid evenly soaks into the ceramic, and once you inhale, the atomizer instantly heats to the right temperature and is evenly distributed. So each puff keeps a degree of flavor consistency from the first to the last puff. When vaping with a cotton atomizer, the heat gradually rises and the vapor is slightly warmer. Unlike a ceramic atomizer which heats the e-liquid all at once to release a full-flavor, the vape atomizers with cotton fibers, deliver the flavor layer-by-layer. In a word, if you choose VEEX vape pods, you can experience different feelings when inhaling.
RELX Pod Pro
Comfortable temperature
Optimized draw resistance
Fast and sensitive activation
Quiet use
Rich vapor
VEEX V5
PCTG Food Material
VEEX V5 vape pods have adopted PCTG food material, which don't contain bisphenol A. Bisphenol A is harmful to human health. Many of the inferior and backward vape pods use materials that contain bisphenol A. VEEX, in line with the brand concept of consumer oriented, uses healthy and environmentally friendly materials in its products early, trying to ensure the health of consumers.
Pacifier grade silicone leak proof ring
VEEX V5 vape pods have adopted pacifier grade silicone leak proof ring, which has the ability to reduce oil leakage. For smokers, oil leakage is inconvenient, which leads to not only waste but also mess. There are many brands that have problems with oil leakage. Besides, the silicone leak proof ring is pacifier level, which is good for the health of consumers.
Condensing return tank
VEEX V5 vape pods have adopted condensing return tank. The condensing backflow bin and through flue allow for smooth smoke generation and flow. Consumers can experience the big smoke and brilliant mouthfeel. As we all know, mouthfeel is an important standard to test the quality of vape pods. Only good mouthfeel can attract consumers for a long time.
Embedded ceramic body
Creative VEEX have changed the way to inset the ceramic body. Embedded ceramic body makes atomization effect better. VEEX V5 ceramic coil pod has adopted embedded ceramic body. With the help of condensing return tank and embedded ceramic body, the atomization effect and mouthfeel of these two generations of VEEX pods are amazing and fantastic, which can attract many smokers.
NCODE ceramic body
VEEX V5 ceramic coil pod has adopted NCODE ceramic body. The NCODE ceramic body adopts harmless formula, the ceramic matrix uses high-purity silica and other six element system harmless black pottery, ceramic materials do not contain lead, mercury, cadmium, hexavalent chromium and other harmful substances, Besides, the atomization core heating area of NCODE ceramic body is larger, and start speed is faster, the tobacco oil resolution reduction degree is higher. The higher porosity of the ceramic and the honeycomb interwoven micropores lock the oil, which not only better solves the oil leakage problem, but also gives users a better consistency of taste. NCODE ceramic body is a huge technological innovation for VEEX.
ATTENTION
RELX Pod Pro and VEEX V5 are substitutes for each other. RELX Pod Pro is for RELX Infinity, RELX Artisan and RELX Essential vape device, which means these three RELX vape devices are compatible with VEEX V5 vape pod.
Verdict
Through analysis, we draw a conclusion—VEEX V5 is as good as RELX Pod pro. But VEEX V5 is more attractive and cost-effective.
Where to buy
VEEX V5: https://www.veexshop.com/